South Beach Real Estate
South Beach Condos For Sale< click to see what's for sale on South Beach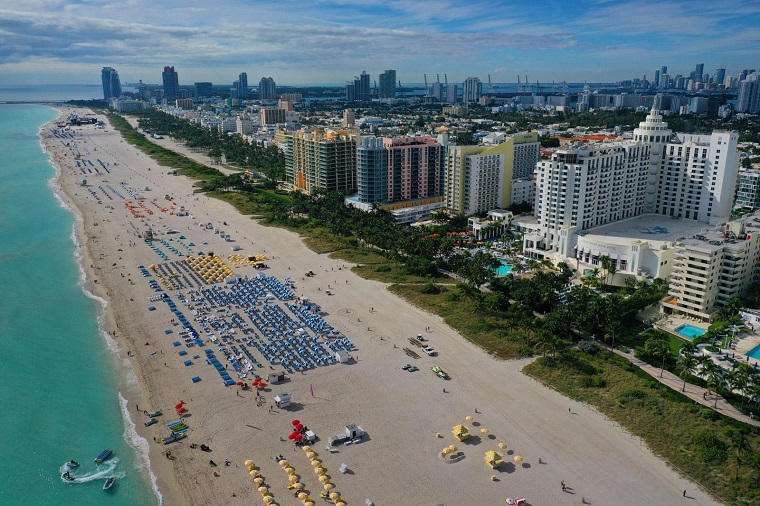 South Beach in Miami Beach looking from the North
Billionaire Marc Rowan Sells Miami Beach Condo At $500,000 Loss - March 2018
Jerry Falwell's Liberty University Runs Cesspool Of Vice South Beach Flophouse - August 2017

Tommy Hilfiger Buys Raleigh Hotel In South Beach
Last Oceanfront Condo Building In South Beach Goes Up
South Beach real estate is some of the finest in Florida! The Southern most tip of Miami Beach, known the world over as South Beach, or the chic SOBE, has experienced an unprecedented rebirth over the last decades. South Beach real estate, with it's wonderful homes and condos, has turned what was once a quiet haven for retires, into a city that has exploded into one of the hottest, sexiest and most exciting new tourists destinations. South Beach is very much a part of Miami, but it is also a world all its own. South Beach's never ending nightlife, the incredible shopping, the legendary moonlight, the balmy ocean breezes, the golden sun-baked days and European Guesthouse are just a few of the attractions that make South Beach such a popular destination. The Atlantic Ocean and miles of pristine white sandy beaches provide a breathtaking Backdrop to South Beach's Art Deco District, a place unlike any other in the world. Experience the premiere destination of the New American Riviera, South Beach, Miami, Florida.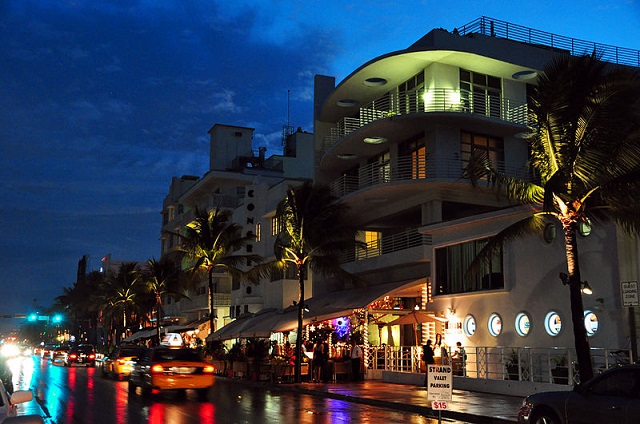 South Beach Night View

1500 Ocean Drive Condos For Sale - Bentley Bay North Condos For Sale - Bentley Bay South Condos For Sale
Bentley Hilton Beach Condos For Sale - Capri South Beach Condos For Sale - Glass Condos For Sale
Icon South Beach Condos For Sale - Il Villaggio Condos For Sale - Mondrian South Beach Condos For Sale
Murano Grand Condos For Sale - Netherland Condos For Sale - Ocean House Condos For Sale - One Ocean Condos For Sale
Portofino Towers Condos For Sale - The Tides Condos For Sale - W Hotel Condos For Sale - Yacht Club At Portofino Condos For Sale


The easiest access to South Beach is from the MacArthur Causeway, which connects with I-95 just north of downtown Miami. On the rightis the port of Miami, the beginning and ending destination of 75% of cruises taken each year.Along the MacArthur Causeway as you head into South Beach, you will see the luxurious Star Island, home to many famous Miami Residents, including Gloria and Emilio Estefan. The causeway exists onto 5th street, into the heart of South Beach. Directly ahead on your left is Michigan Avenue, home to European Guesthouse, followed by Jefferson Avenue, Meridian Avenue, Washington Avenue, Collins Avenue and finally Ocean Drive. Those streets together with the newly refurbished Lincoln Road are the center of life in South Beach. Whether you are looking for clubs, shops, beaches or restaurants, you will find them all in South Beach.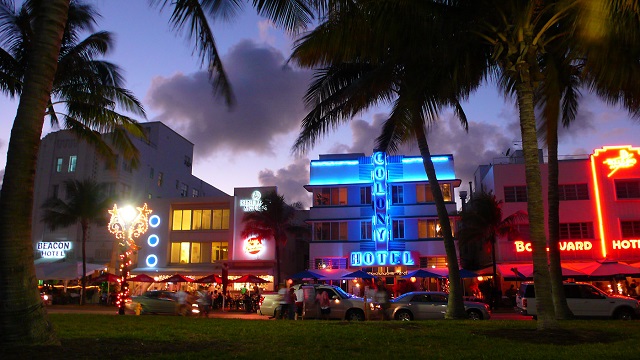 Ocean Drive Hotels In South Beach
Versace Mansion Sold At Auction For $41,500,000
The Versace mansion was sold at a court-ordered bankruptcy auction for $41.5 million a few hours ago to a group that includes New York's Nakash family, the major owner of Jordache Enterprises. Joe Nakash, the winning bidder is also the owner of the Hotel Victor directly adjacent to the mansion, said he will ask for the right to use the Versace's name as well as permission operate the mansion as a hotel in conjunction with the Victor. The winning bid came from VM South Beach LLC, one of only 3 bidders who registered for the auction.
Versace Mansion In South Beach Up For Auction
The Versace mansion will be auctioned off to the highest bidder on Sept 17, according to Lamar Fisher of Fisher Auction Company. Design artisans and European craftsmen combined to create a grand and majestic masterpiece on world famous Ocean Drive in Miami Beach, facing the Atlantic Ocean. Ten bedrooms are uniquely decorated and swathed in lavish appointments, with hand painted walls and ceiling frescoes reminiscent of resplendent mansions around the world. There is a 54-foot long mosaic tiled 24K gold lined pool in an exquisitely appointed courtyard, housing just a few of many museum quality pieces in this world-class property with its own Observatory. The bankruptcy auction was approved last week, and Fisher requires all bidders to come in with a $3,000,000 escrow deposit to be placed with the owner's law firm. The South Beach property is presently for sale for $75,000,000.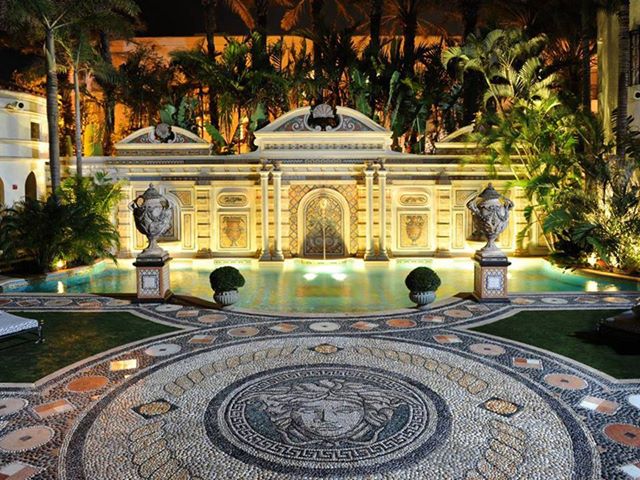 Versace Mansion South Beach
South Beach Burger King To Sell Beer & Burgers
South Beach Burger King will soon open a restaurant with a Whopper Bar, where customers will be able to buy a beer and a burger. A whopper combo, including a burger, Anheuser-Busch or MillerCoors beer, and fries will cost $7.99 at the Miami Beach restaurant. Last Friday Burger King announced that the bar,which is scheduled to open in South Beach in mid-February, will have delivery service, as well as a walk up window and an outdoor dining area. Only beer will be unavailable for delivery. The first whopper bar opened last year in Orlando, Florida. The beers will be sold in aluminum bottles to keep them cold, and will cost $4.25 if purchased alone. Chuck Fallon, president of Burger King North America, told the Associated Press that more bars are being considered in cities like New York, Los Angeles and Las Vegas. "You can have America's favorite beers with America's favorite burger," Fallon said.


Aerial Views South Beach

Introducing South Miami Beach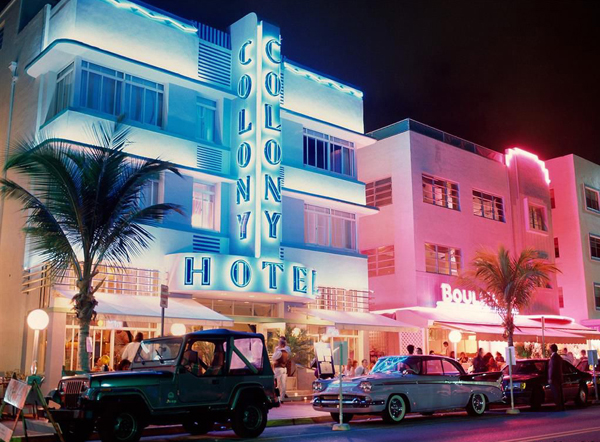 Colony Hotel On Ocean Drive In South Beach also Known as SOBE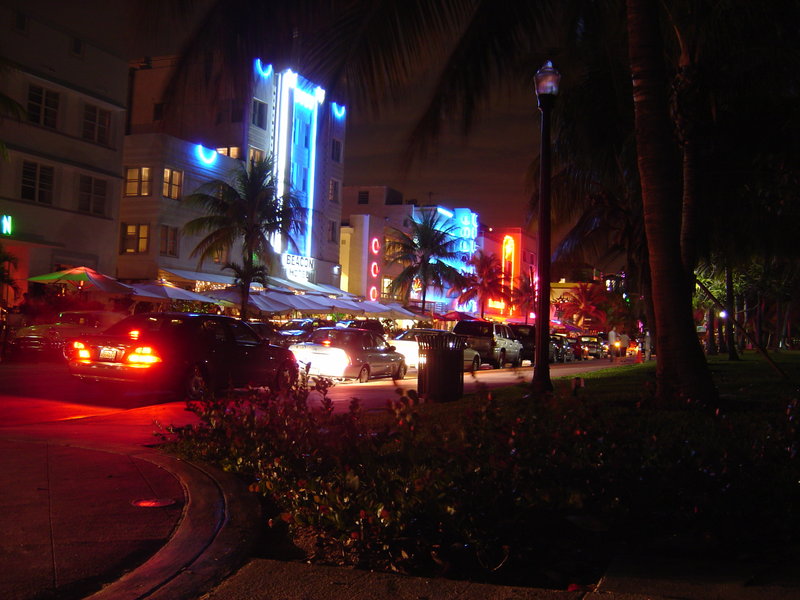 Ocean Drive South Beach At Night
History
South Beach started as farm land. In 1870, Henry and Charles Lum purchased 165 acres (668,000 m?) for coconut farming. Charles Lum built the first house on the beach in 1886. In 1894 the Lum brothers left the island, leaving control of the plantation to John Collins, who came to South Beach two years later to survey his land. He used the land for farming purposes, discovering fresh water and extending his parcel from 14th Street to 67th in 1907. In 1906, South Beach's first bar, Mac's Club Deuce (which still exists today), opened its door on 14th Street. In 1912, Miami Businessmen the Lummus Brothers acquired 400 acres (1.6 km?) of Collins, in an effort build an ocean front city of modest single family residence. Carl G. Fisher, a successful entrepreneur who made millions in 1909 after selling a business to Union Carbide, came to the beach in 1913. His vision was to establish South Beach as a successful city independent of Miami. This was the same year that the famous restaurant Joe's Stone Crab opened. On March 26, 1915, Collins, Lummus, and Fisher consolidated their efforts and incorporated the Town of Miami Beach. South Beach is born. In 1918 the Mac Arthur Causeway was completed. The Lummus brothers sold their oceanfront property to the city from 6th Street to 14th, which was then and is now the area known as Lummus Park. In 1920, the Miami Beach land boom began. South Beach's main streets, 5th Street, Alton Road, Collins Avenue, Washington Avenue, and Ocean Drive were all suitable for automobile traffic. The population was growing in the 1920s, and several millionaires such as Harvey Firestone, J.C. Penney, Harvey Stutz, Albert Champion, Frank Seiberling, and Rockwell LaGorce built homes on Miami Beach. President Warren G. Harding stayed at the Flamingo Hotel during this time, driving up interest.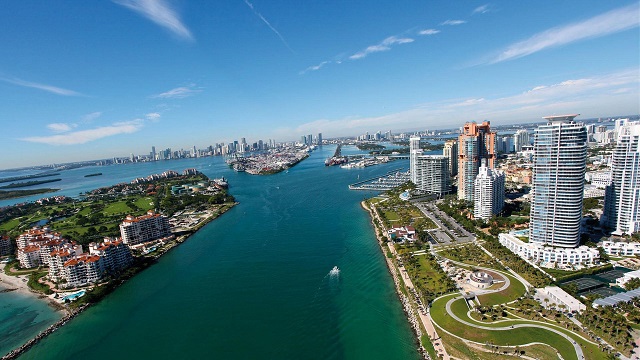 South Beach Miami Beach Areal View From Helicopter
In the 1930s an architectural revolution came to South Beach bringing Art Deco, Streamline Moderne, and Nautical Moderne architecture to the Beach. To this day, South Beach remains the world's largest collection of Streamline Moderne Art Deco architecture. Napier, New Zealand another notable Art Deco city, makes an interesting comparison with Miami Beach as it was rebuilt in the Ziggurat Art Deco style after being destroyed by an earthquake in 1931. By 1940, the beach had a population of 28,000. After the December 7, 1941 attack on Pearl Harbor, the Army Air Corps took command over Miami Beach. In 1966, South Beach became even more famous when Jackie Gleason brought his weekly variety series to the area for taping, a rarity in the industry. Beginning in the late 1970s through the 80s, South Beach was used as a retirement community with most of its ocean-front hotels and apartment buildings filled with elderly people living on small, fixed incomes. This period also saw the introduction of the "cocaine cowboys," drug dealers who used the area as a base for their illicit drug activities. The TV show Miami Vice used South Beach as a backdrop for much of its filming due to the area's raw and unique visual beauty. While many of the unique Art Deco buildings, such as the New Yorker Hotel, were lost to developers in the years before 1980, the area was saved as a cohesive unit by Barbara Capitman and a group of activists who spearheaded the movement to place South Beach on the National Register of Historic Places. In the late 1980s, a renaissance began in South Beach with an influx of the fashion industry moving into the area. Most major modeling agencies had offices in South Beach, and fashion photographers used the area as a backdrop for their photo shoots.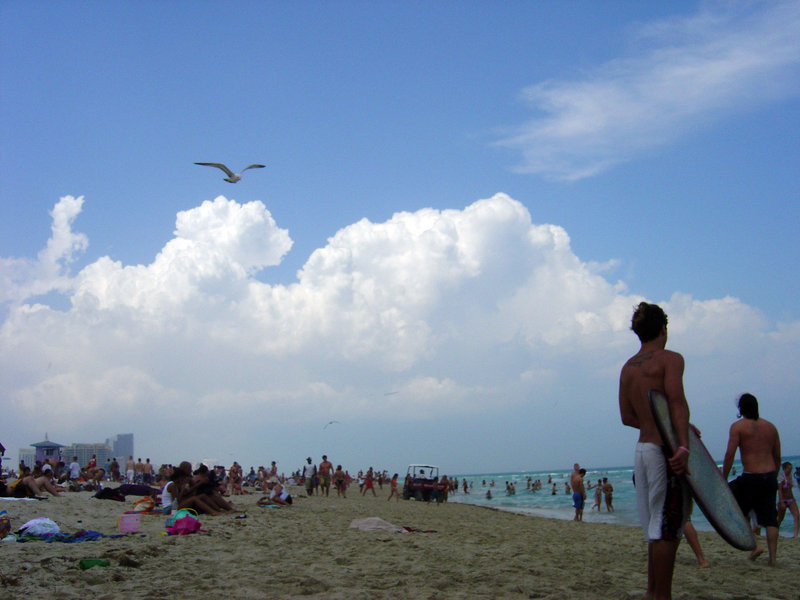 The Beach In South Beach (SOBE)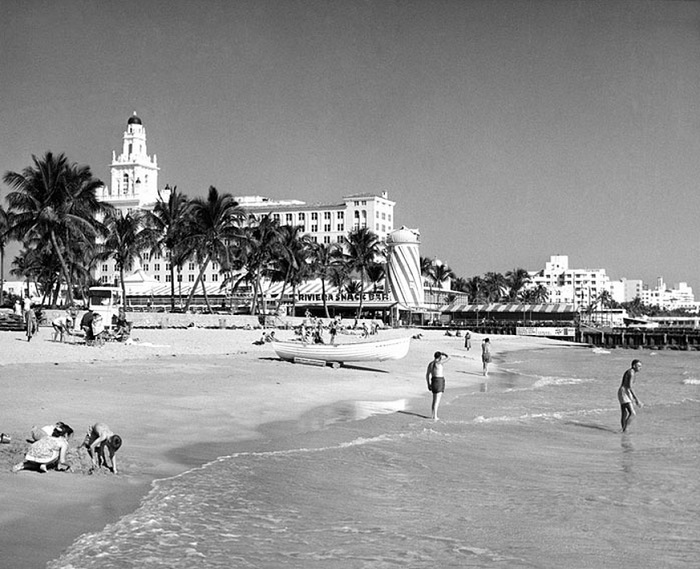 The Beach in South Beach in 1950
Residential Neighborhoods
There are several residential neighborhoods in South Beach. South of Fifth (also known as SoFi) encompasses the area from the Atlantic ocean east to Biscayne Bay on the west, and from Fifth Street to the South Pointe. It is, as of 2005, the area with the highest property values. This area is home to several large scale development projects and large buildings such as the Portofino and its sister buildings, Icon (spearheaded by designer Philippe Starck), and several other buildings. This area has several notable nightlife destinations, such as Opium Garden, Prive, Nikki Beach Club, and Pearl. It also has several smaller, upscale bars, and in addition several restaurants, including world famous Joe's Stone Crab, Smith & Wollensky's steak house, and China Grill. However, it is mostly residences. Flamingo Park is the neighborhood directly north of Fifth, and expands from Alton Road on the west to Washington Avenue on the east, with its northern boundary being Lincoln Road. However, it does not include Lenox This area contains very few businesses (with the exception of those on Alton Road and Washington Avenue, and Lincoln Road, all of which are commercial streets), and consists mainly of low rise apartment buildings. There is virtually no notable nightlife in this area presently, with the exception of Tantra on 15th Street. It is also home of Flamingo Park, one of South Beach's public parks, which includes recreational facilities such as tennis and basketball courts. Flamingo West is a neighborhood of single family homes that spans from north of the Park to Lincoln Road on Lennox and Michigan Avenues.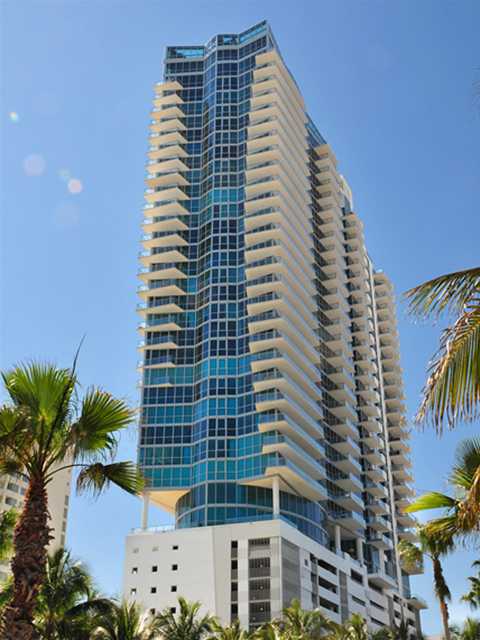 Setai Luxury Resort And Condos In South Beach
Collins Park, which, according to the Miami New Times, is the most "up and coming" South Beach neighborhood, is located between 17th Street on the south, 23rd Street on the north, the Atlantic Ocean on the east, and Washington Avenue/Pinetree Drive on the west. It is directly across from the Miami Beach Convention Center. This area is currently undergoing gentrification, as many of the old apartments from the 1980's (many of which still have bars on their windows) are being purchased by major New York and South Florida real estate developers for purposes of condo conversion. The Sanctuary, located on James and 18th, plans for a new public library, and several open projects in this neighborhood, are cited by the Miami New Times as evidence that this is the next South of Fifth. This area consists mainly of low rise art deco buildings built in the 1930's and 1950's, as well as the Bass Museum of Art. Additionally, many high-rise buildings exist on the entirety of Bay Road (home of the world's largest apartment complex - The Flamingo), and West Avenue, and there are multifamily residence located north of Lincoln Road and east of Collins Park.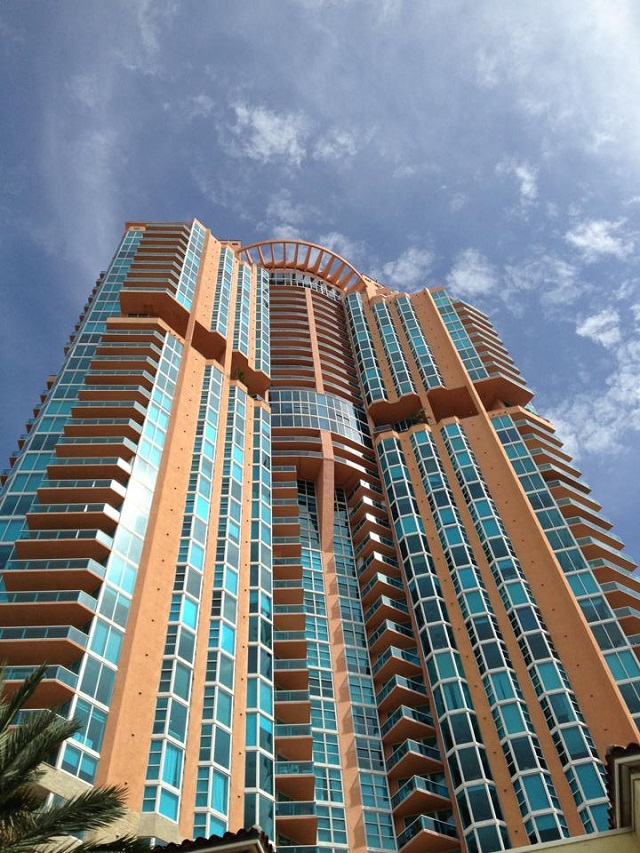 Portofino Towers Condo South Beach
Lincoln Road is an open-air pedestrian mall, and is considered the premiere shopping area in South Beach. It is home to many restaurants, and several night clubs such as Rumi and State. Additionally, it is home to many retail outlets. While Lincoln Road at one time was rather downtrodden, its unique botique shops and restaurants have given it what was called by Ocean Drive Magazine an esoteric chic that maintains its trendy appeal. It is located in between 16th Street and 17th Street and spans the beach in an east-west direction. Ocean Drive is the easternmost street in South Beach, and stems from south of First to 16th Street, running in a north-south direction. While being home to Pearl and Nikki Beach, two famous, yet predominantly local night spots, It is a popular Spring Break and tourist area. It is home to several restaurants (including the popularized by MTV "Clevelander" and "Mango's") and gives South Beach the aesthetic that out of town visitors would expect. Locals largely avoid most of this street. Collins is parallel to Ocean, but one block west. It is where A1A begins. Collins is home to many historic Art Deco hotels, and several nightclubs on the north, such as Rokbar and Mynt.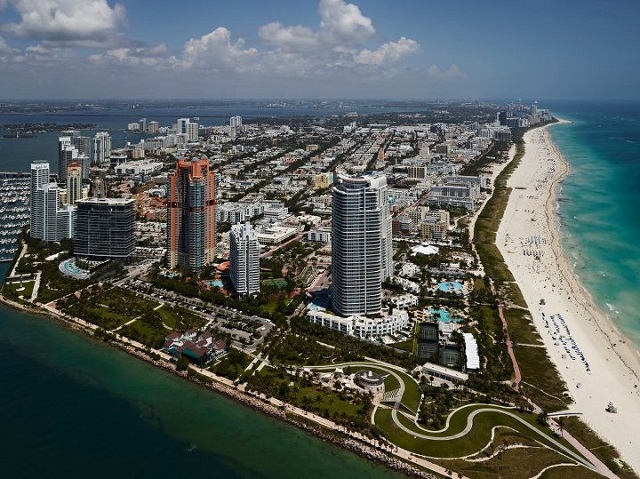 South Beach Areal View of South Pointe Condos
Espanola Way, which runs from Collins Avenue to Pennsylvania Avenue, was conceived by N.B.T. Roney (of the Roney Palace Hotel) in 1925 as The Historic Spanish Village, modeled after the romantic Mediterranean villages found in France and Spain. Today it consists of art galleries, restaurants and quirky shops. Alton Road is a street located three blocks from Biscayne Bay and running north-south, which hosts many local businesses. While this street has very few nightlife destinations, it is home to such businesses as dry cleaners, supermarkets, and fast food restaurants. Perhaps the most well known street in South Beach is Washington Avenue. Running parallel with Ocean and Collins, Washington is notorious for having the world's largest and most popular nightclubs. It is a unique street, the likes of which can not currently be found anywhere in the U.S. It is home to such famous nightlife destinations as crobar and Mansion, and during "season" (October 15th to May 15th) there can be seen a traffic jam on this street until early in the morning (as late as 6 am) every night of the week. Currently, and according to several popular magazines such as The New Times and Ocean Drive, South Beach has replaced both Los Angeles and New York City as the premier and most popular nightlife spot in the U.S. It is host to over 150 clubs and other destinations, most of which close at 5 am. South Beach can be expensive, and access to nightclubs is oftentimes difficult for non-locals who do not have connections. Assuming one does not have connections, access to the more popular nightspots can cost from $20-60 for entry (depending on event and venue) and a wait of up to several hours, in addition to the loss of dignity from being scrutinized by door staff. Nightlife in South Beach is dynamic. Clubs constantly change decor, name, and owner, so it is difficult to state at any given time which clubs are popular. For a current look, see cooljunkie.com. South Beach is one of the world's foremost locations for fashion shoots. Approximately 1,500 models live in the area, with many more arriving during the prime fashion shooting season from October through March. Ocean Drive is the most popular place for shoots, but back streets are also used.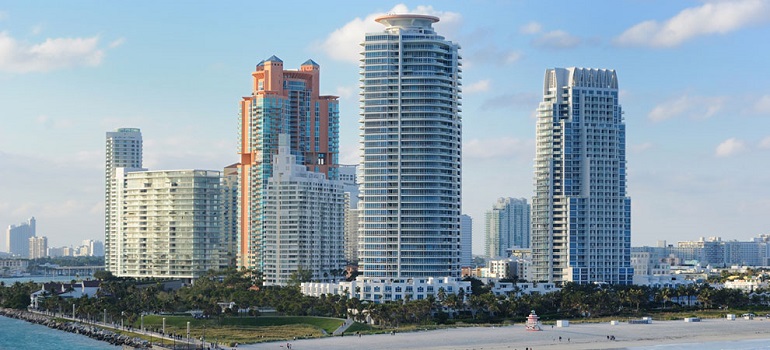 South Beach Condo Buildings At South Pointe In Miami Beach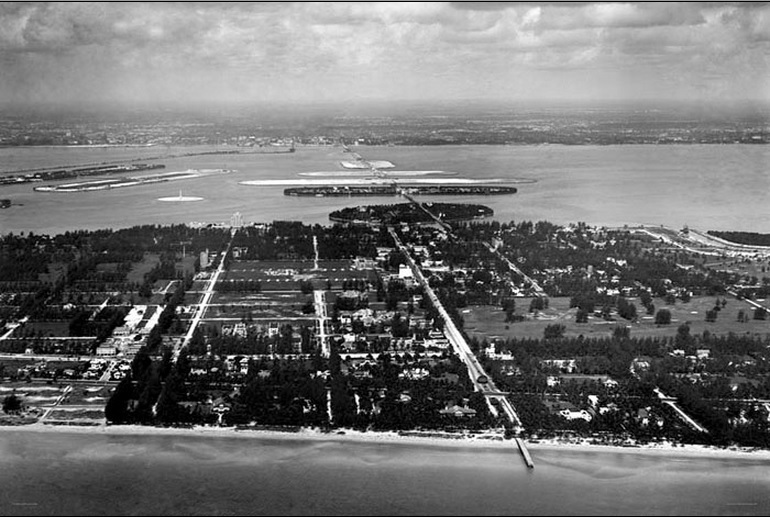 Lincoln Road In South Beach In 1924 Rare Photo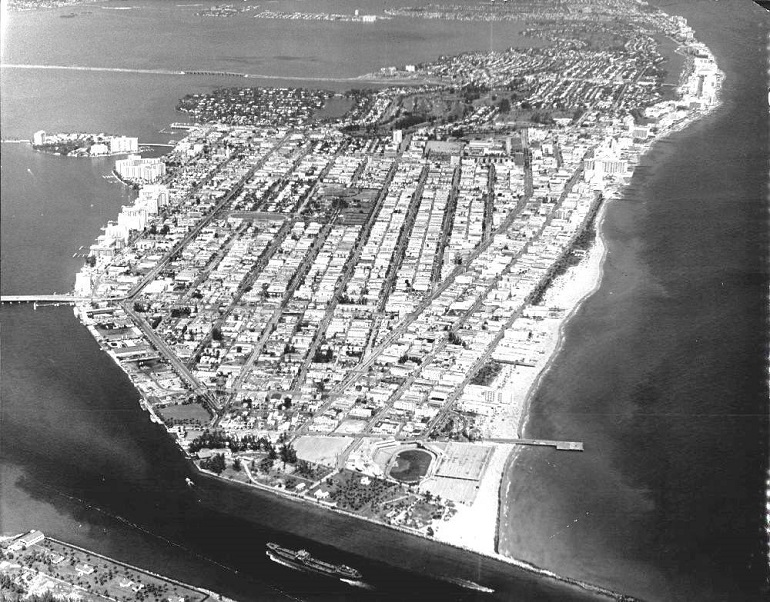 Rare 1967 Aerial View of South Beach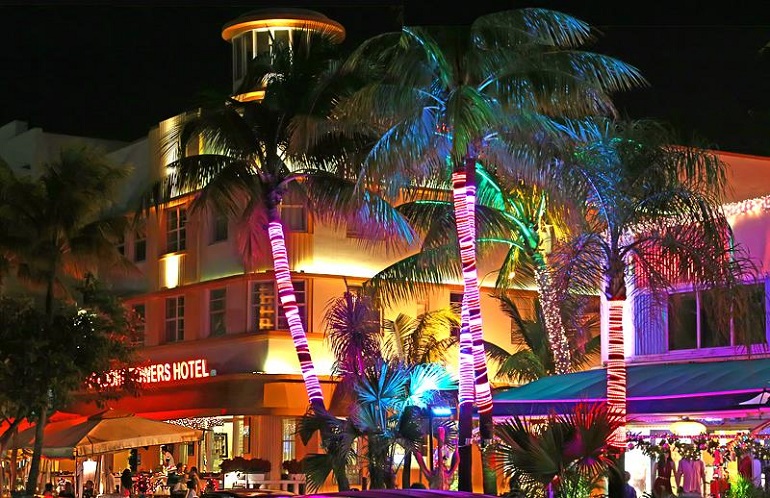 Beautiful South Beach Art Deco Hotels On Ocean Drive
BACK TO TOP


Miami Beach Condos
Akoya Condos For Sale - Azure Condos For Sale - Bath Club Condos For Sale - Blue Diamond Condos For Sale - Canyon Ranch Condos
Edition Residences Condos For Sale - Fontainebleau II Condos For Sale - Fontainebleau III Condos For Sale - Green Diamond Condos
La Tour Condos For Sale - Mosaic Condos For Sale - Solimar Condos For Sale - The Caribbean Condos For Sale - Villa Di Mare Condos
Miami Beach Homes - Miami Beach Condos

Home Page | Contact Alex Shay
Disclaimer Copyright © AlexShay.com All Rights Reserved