Miami Beach Real Estate
Miami Beach Homes For Sale < click to see what's for sale in Miami Beach

Miami Beach at Night
Kanye West Just Bought This Brand New $14 Million Miami Beach Condo As A Christmas Present For Kim Kardashian - Jan 2019
Lil Wayne's New Miami Beach Mansion On Allison Island - December 2018
America's Wealthiest Zip Code is Fisher Island - November 30, 2018
Harvard Study Links Rising Tides to Miami Home Values - August 29, 2018
Billionaire Marc Rowan Sells Miami Beach Condo At $500,000 Loss - March 2018
Jerry Falwell's Liberty University Runs Cesspool Of Vice South Beach Flophouse - August 2017
Sotheby's Senior Vice President Jailed For Blackmail
Phil Collins Buys Jennifer Lopez House For $33 Million
Lil Wayne's Miami Beach House For Sale $18 Million
Miami Beach Developer Sued For Stating False Square Footage

Matt Damon's Miami Beach House For Sale $19 Million USD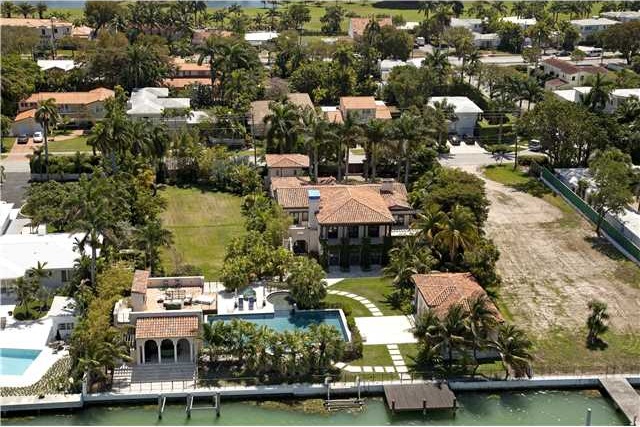 Matt Damon's Miami House
UPDATE: Matt Damon's Miami Beach House Sold For $15.375 Million -- Matt Damon finally sold his Miami Beach home for $15,375,000, after almost 2 years of marketing the property. The 12,700 square feet mansion, located at 6020 N. Bay Road was originally listed for $20,000,000, but when the price was reduced by one million dollars, a buyer named Patrick Markert appeared and purchased the property this month. Now Mr. Markert has two famous neighbors who also live on North Bay Road, Dwyane Wade and Chris Bosh of the Miami Heat NBA basketball team. The property also has a name -- Maravilla.
____________________________________________
Matt Damon's Miami Beach house on exclusive North Bay Road is listed for sale for $19,000,000 USD. The 12,705 square feet mansion is situated on a one acre lot on one of the most espensive streets in South Florida. Some of North Bay Road's residents include Chris Bosh and Dwyane of the Miami Heat NBA basketball team. Mr Damon purchased the property at the height of the Miami real estate boom in 2005 for a hefty $10,300,000 according to the Miami Dade County property records.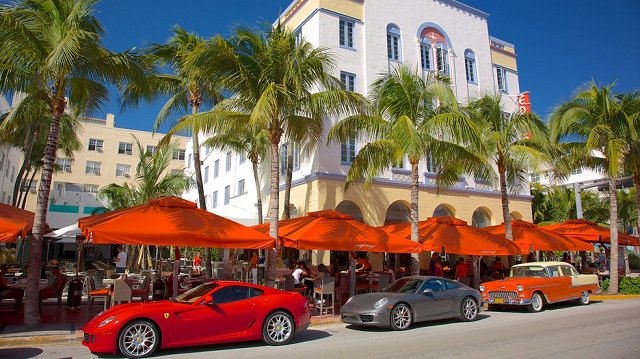 Ocean Drive in Miami Beach
Akoya Condos For Sale - Azure Condos For Sale - Bath Club Condos For Sale - Blue Diamond Condos For Sale - Canyon Ranch Condos For Sale
Edition Residences Condos For Sale - Fontainebleau II Condos For Sale - Fontainebleau III Condos For Sale - Green Diamond Condos For Sale
La Tour Condos For Sale - Mosaic Condos For Sale - Solimar Condos For Sale - The Caribbean Condos For Sale - Villa Di Mare Condos For Sale
Miami Beach Homes - Miami Beach Condos
Alex Rodriguez (A-Rod) sells Miami Beach Home For $30 Million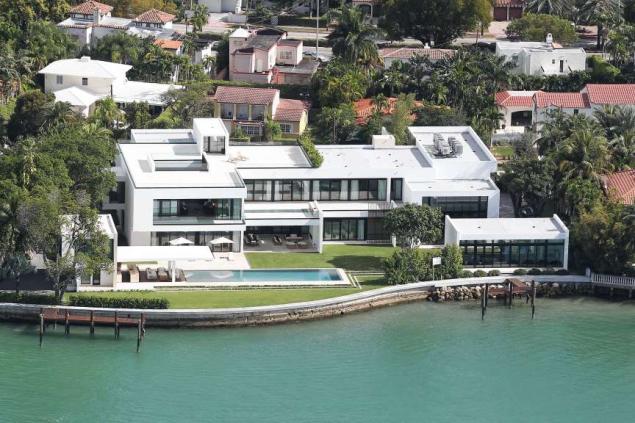 A-Rod's Miami Beach House On North Bay Road
A-Rod just sold his Miami Beach house for $30 Million USD according to reports circulated today in the Miami real estate arena. A-Rod purchased the property in 2010 for $7.4 Million USD, and subsequently proceeded to renovate the home to the tune of $7.6 Million, creating a 9 bedrooms 20,000 square feet mansion on a very sought after North Bay Road lot, lot measuring well over one acre. The buyer is reportedly a Palm Beach celebrity.
Louis Vuitton CEO Michael Burke just bought a Miami Beach mansion on Allison Island on January 20, 2014. Allison Island Mansion
BACK TO TOP

Miami Beach 33139 Now One Of America's Wealthiest Zip Codes
Luxury Miami Beach homes in zip code 33139 are now some of the priciest properties in the USA according to a recent report published by CNN Money. Miami Beach includes the Venetian Islands, Star Island, the Sunset Islands, La Gorce Island, Palm and Hibiscus Islands and world famous South Beach. Property prices in these areas have doubled in the past couple of years, making zip code 33139 the fourth wealthiest real estate community in America, behind Beverly Hills 90210, New York 10013, and Aspen 81611. People from all parts of the globe love to visit the beautiful city of Miami. Miami Beach is one of the most marvelous cities in the world, and Miami real estate is certainly at the top of the list of some of the most gorgeous homes in the world. South Beach is known as far as Perth, Australia, and is visited by thousands of tourists every month. Movie stars and models from all over the world,as well as "the rich and famous", are often found strolling Miami Beach's Ocean Drive. Miami Beach is one of the best cities in America to own real estate, because it's international flavor continues to bring in home buyers from all over the world. When you become the proud owner of Miami Beach real estate, whether you live in Miami part of the year, or whether you live and work here all year round, you can always feel like you are on vacation. Since 1986, real estate prices in Miami have continued to climb, and real estate in Miami Beach held its value even during times of economic recession. Miami is the one place in the United States, where the weather is warm all year round, and owning Miami property has become more desirable now than ever before, because the city has truly become international, with people from all over the world buying homes and condos in Miami. The City of Miami Beach is centrally located, so whether you fly to Tokyo or Sydney, you are never more than just a few minutes away from Miami International Airport. Miami's international flavor and central location make Miami homes and condos a sound investment opportunity for the savvy buyer.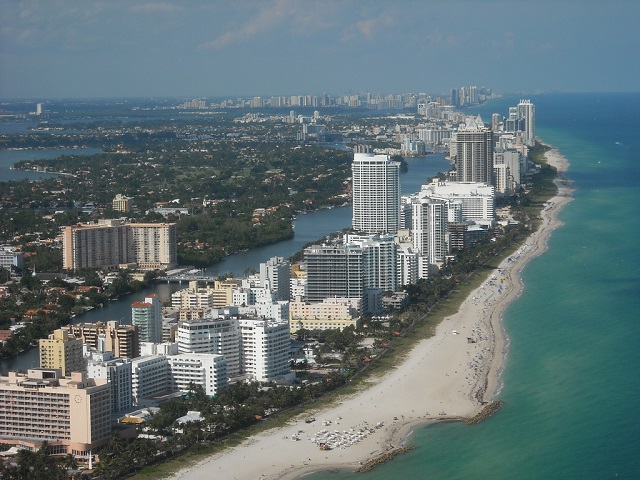 Miami Beach Rare Skyline View

Homeowners Associations of Miami Beach Neighborhoods

Miami Beach real estate is international: If you seek a truly international destination that is rich in history and offers great weather, award-winning beaches, a wide variety of real estate and a robust and growing economy, you've found it. The City of Miami Beach is a thriving global center for the entertainment industry. Film, television, music, fashion, news media, and the performing arts make up the fastest-growing segments of the Miami Beach economy. The health care industry includes the Mount Sinai Medical Center & Miami Heart Institute, the city's largest employer, and South Shore Hospital. And of course tourism continues to play a vital role in the success of the local economy. Miami Beach is currently undergoing a renaissance with more than $1 billion being invested in new and historic hotels. The historic South Beach strip has been completely renovated and is one of the top tourist attractions in the nation. The collection of newly constructed four-star hotels and resorts are also attracting a huge number of guests. In 2002, for the second year in a row, Miami Beach's South Beach was named America's Top Urban Beach. For several consecutive years, the Travel Channel has selected South Beach as one of the top 10 beaches in the world --the only beach in the continental United States to be honored with this recognition. The city's diverse real estate market offers a wide variety of homes to fit any budget or lifestyle. Where else can you find stunning beachfront condos just minutes from Miami's bustling commercial and business districts? Only in Miami Beach! Only in Miami!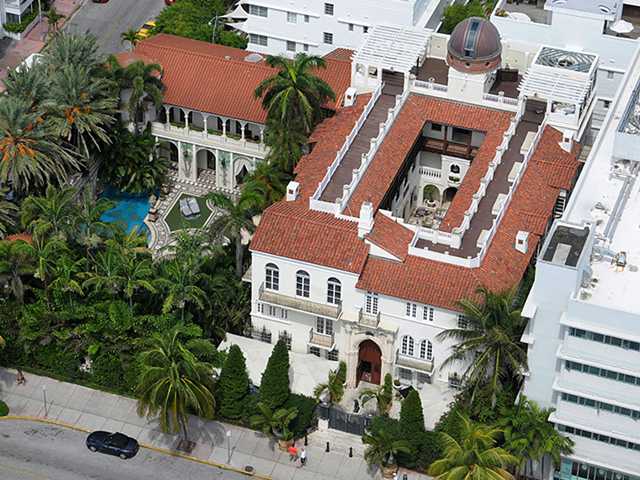 Versace Mansion Miami Beach Florida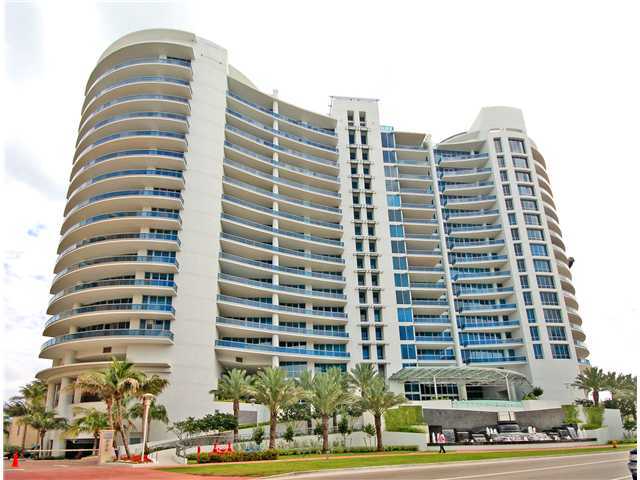 Bath Club 5959 Collins Avenue Miami Beach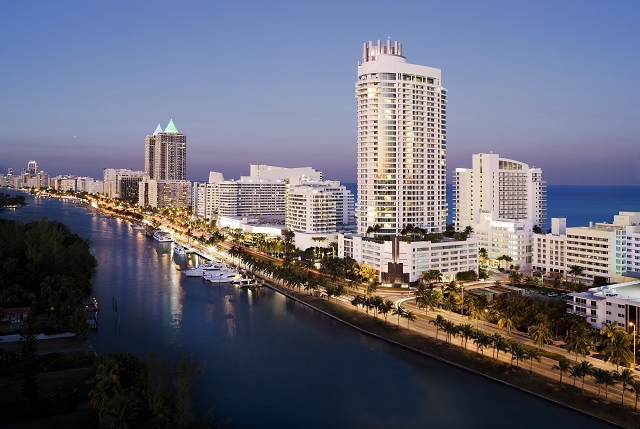 Miami Beach Florida View Of Fontainebleau Hotel
Ricky Martin Sells Miami Beach Home For $10,600,000
Singer Ricky Martin just sold his Miami Beach home for $10,600,000. The property was advertized as a "Mediterranean masterpiece with breathtaking open bay views from every room. Featuring 7 bedrooms, adjoining courtyard-view guest quarters, 8 full baths, 2 half baths including cabana, fully wired media room and elevator. This private estate is the epitome of luxury living featuring the finest in detailed finishes including solid mahogany doors, ceiling treatments, fireplaces, travertine marble throughout, and crown moldings. Spacious gourmet kitchen, formal dining room, full bar. Jacuzzi and pool."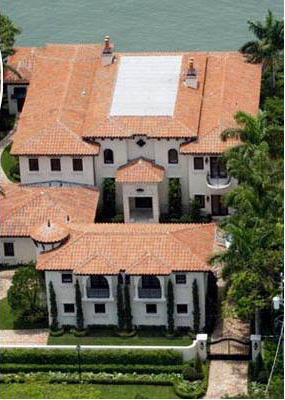 Ricky Martin's House In Miami Beach

Ricky Martin's 9,491 square feet mansion is situated on a 19,320 square feet lot with 105 linear feet of water frontage. He purchased the property in 2005 for $10,000,000. The sale is one of several luxury home sales to take place recently. Just last week shoe maker Donald Pliner of 29 Star Island sold his home for $14,325,000, accepting quite a bit less than his asking price of $20,000,000.
Lil Wayne's House In Miami Beach For Sale
Lil Wayne's house on La Gorce Island in Miami Beach is for sale -- that is what has been all over the internet today, on blog after blog. Is it true? No it's not. The latest rumor was started by an erroneous April 7th report by AOL Real Estate, stating that Lil Wayne put his La Gorce Island home up for sale due to tax problems. Lil Wayne doesn't own a house on Miami Beach, but it he reportedly rents a home on La Gorce Island. 94 La Gorce Circle is a 15,000 square feet home which was built in 2004, and except for the relatively small lot on which it is situated, could well be considered a Miami Beach mansion. The home is advertised as an architectural masterpiece with "rich woods, expanses of glass, steel & select marble, lavished throughout this ultra-modern residence that features sky terraces with incredible views". In actuality, the property has been on the market for sale for quite some time. It was listed for sale in 2006 for $13.9 million, and has been on the market for most of the time since then. In November 2010 the price was dropped to $12.9 million, where it stands today.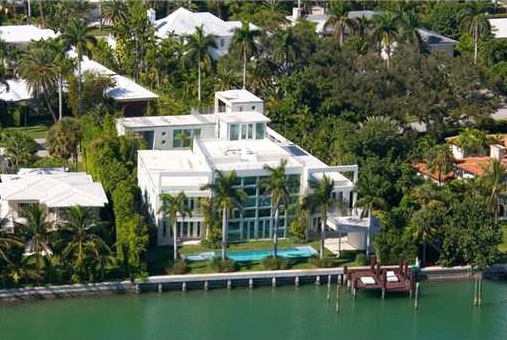 Lil Wayne's House Miami Beach

BACK TO TOP

Al Capone's House in Miami Beach For Sale $6.85 Million
Al Capone's house in Miami Beach on Palm Island is for sale. Advertised as an opportunity to make a piece of Miami Beach history your own, the house once belonging to the infamous gangster Al Capone, comes replete with City of Miami Beach approved plans for rebuilding. The Palm Island home, located at 93 Palm Ave, Miami Beach, FL, was previously listed in 2006, for $6.8 million, and went through 2 pending sales since that time, with no closing ever taking place. It was relisted for sale this month for $50,000 more than the original asking price. Al Capone's house in Miami Beach Florida - arial viewThe historical 6,103 square feet house, is situated on a 3 quarters acre lot, with 100 linear feet of frontage facing neighboring Hibiscus Island and Biscayne Bay. Built in 1922, the Capone house is one of the oldest homes in Miami Beach. Henry Morrison, who still owns the house, according to the Miami Dade property records, purchased it in 1971 for $56,000.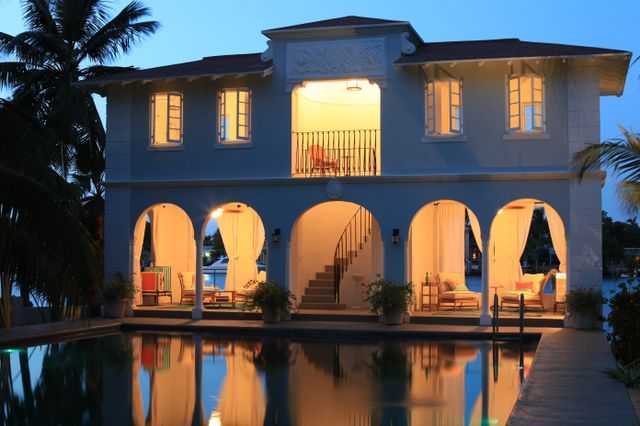 Al Capone's House Miami Beach
Dwyane Wade Buys Miami Beach House For $10,650,000
Dwyane Wade just bought a Miami Beach house on North Bay Road. The 28 year old Miami Heat, NBA all-star looked at more than 50 properties, before finally settling on the house he now calls home. The property, located on upper North Bay Road in Miami Beach is just a few blocks away from the house that Chris Bosh purchased just a couple of months ago, and less than one block away from the home owned by actor Matt Damon. The 6 bedrooms house sits on a lot just over an acre, boasts 150 linear feet of bay frontage, and has more than 13,000 square feet of living area. Dwyane Wade paid $10.65 million for the property, and ensured that North Bay Road in Miami Beach now has one more celebrity living on the block.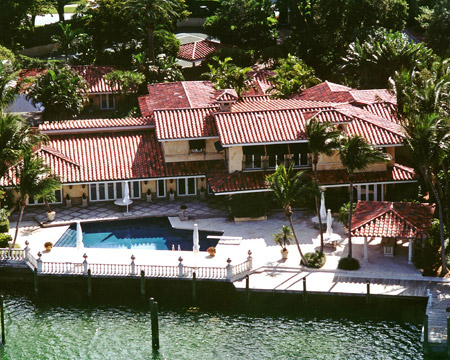 Dwyane Wade's Miami Beach Home North Bay Road

Chris Bosh Buys Miami Beach Home For $12.5 Million
Chris Bosh just bought a Miami Beach home on North Bay Road for $12.5 million. The 26 years old NBA basketball star joined the Miami Heat in July of this year, and was reported to be looking at Miami Beach homes, when it was announced today that he purchased the property located at 6396 North Bay Road in Miami Beach. The 7 bedrooms brand new 2009 home has approximately 12,000 square feet of interior living area, and is situated on a 24,000 square feet lot, with 100 linear feet facing Biscayne Bay and beautiful La Gorce Island. Very few Miami Beach ultra-luxury homes have sold for more than $1000 per square foot of living space, as this one just did, so the sale may be a sign of an improving real estate market in Miami. The property was listed in June 2008 for $15,000,000, and the asking price was raised to $18,000,000 in 2009 when the mansion was finished, but with no buyers, the price was once again reduced, and was listed for $14,970,000 when Chris Bosh purchased it. North Bay Road in Miami Beach has been known for housing such famous celebrities as Jennifer Lopez, Matt Damon, the Bee Gees, Shakira, Tommy Mattola, Thalia, Billy Joel, and Ricky Martin.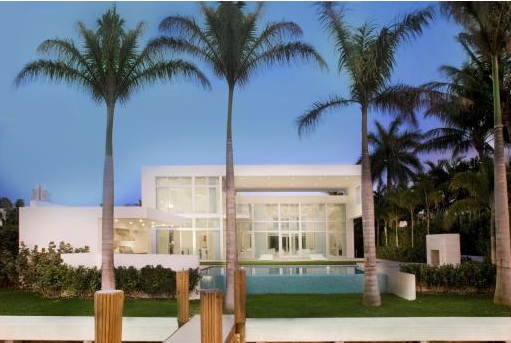 Chris Bosh's Miami Beach Home North Bay Road


Pinetree Drive Areal Views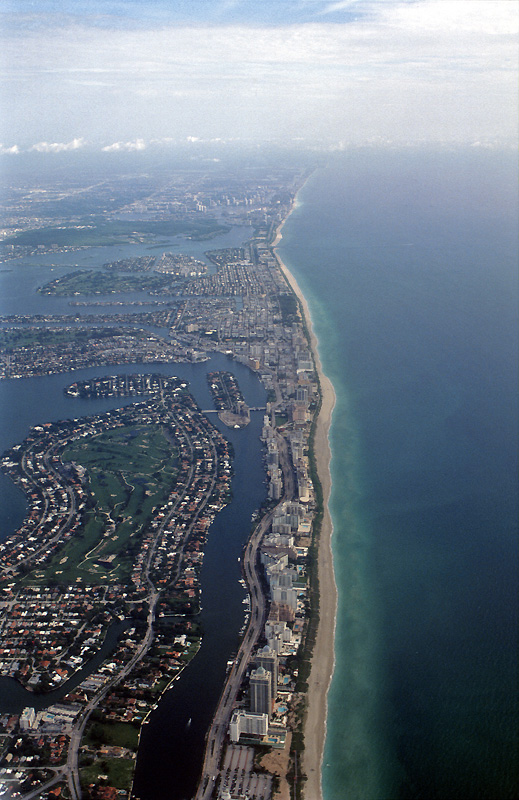 Miami Beach Real Estate Arial View of Miami Beach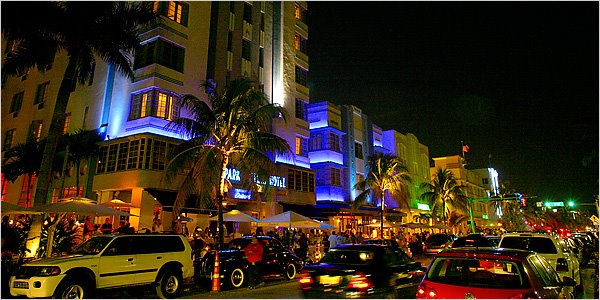 South Beach Miami Beach at Night
Miami Real Estate Investing
Miami real estate has been a great investment opportunity for many discriminating buyers. Why Miami Beach Real Estate? In Miami, you have the best of everything from the warm winter days to the many varied golf courses. Wonderful restaurants line Miami Beach's Ocean Drive, where tourists flock from all over the world to enjoy the warm breezes and international flavor of Miami Beach. Lincoln Road has become the favorite of many Miami residents, who love to dine in the outdoor restaurants and shop for everything from art to incense.
A-Rod's Miami Beach House For Sale $38,000,000
Alex Rodriguez, AKA A-Rod, N.Y. Yankees star, and one of baseball's all time great players, recently put his Miami Beach house for sale. A-Rod's house, located on North Bay Road, is situated on one of Miami Beach's famous streets, with residents such as Dwyane Wade, Chris Bosh, and Matt Damon, to name a few. The 20,000 plus square feet mansion is advertised as a "Stunning modern masterpiece, with uninterrupted Biscayne Bay and skyline views minutes from South Beach on the island's most coveted residential street. Ultimate privacy guaranteed through gated, walled property line, 16 security cameras and 275 feet of water frontage with two docks. Contemporary, casual design with warm, organic materials including coral rock, white oak floors and Zen gardens make 20,000-plus square feet of oversized rooms feel like an intimate home. South Florida's famous indoor/outdoor lifestyle at its finest with covered terraces, vanishing edge heated pool, outdoor kitchen and rooftop deck. Hurricane-ready with thick impact glass and full-home generator. Standalone gym featuring steam room is fitness fanatic's paradise. Entertain to impress with gourmet kitchen, home theater and surround sound throughout. This is a one of a kind, once in a lifetime residence." A-Rod purchased the North Bay Road Miami mansion and an adjoining lot for $24 milllion in 2010 when he was dating actress Cameron Diaz.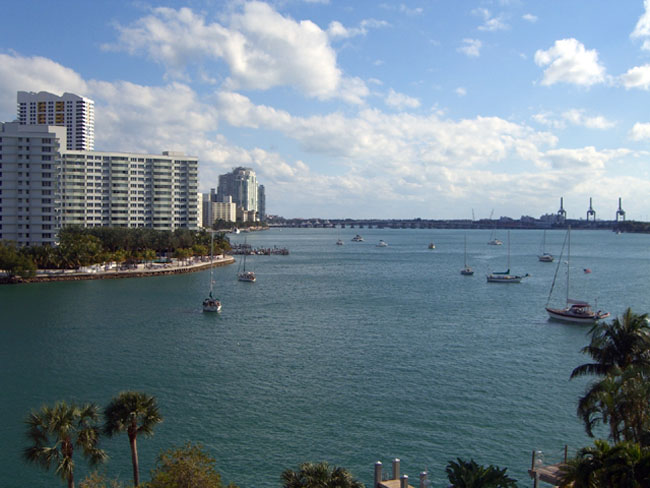 Miami Beach Real Estate - View of Biscayne Bay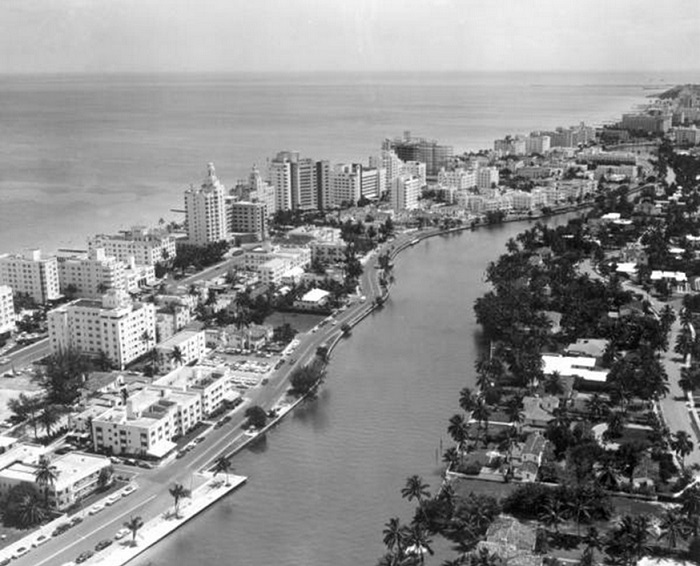 Arial View of Miami Beach in 1955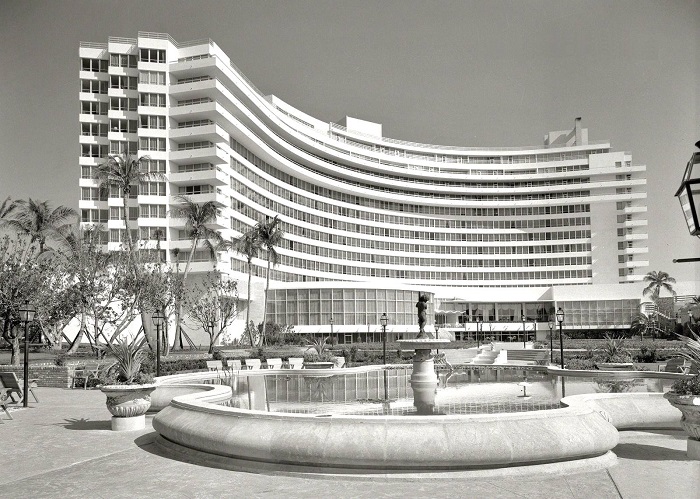 Rare Photo Of Fontainebleau Hotel on Miami Beach In 1955

Another Rare View Of Fontainebleau Hotel In 1955

BACK TO TOP