Miami Real Estate
Miami Homes For Sale < click to see what's for sale in Miami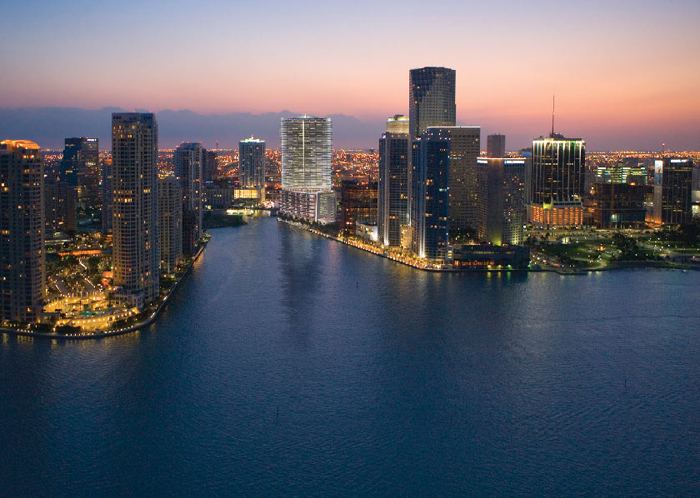 Miami at Dusk
Miami real estate features luxury homes and condos for sale. Miami is one of the most beautiful cities in the world, and Miami Beach real estate encompasses numerous islands, including the Sunset Islands, and the Venetian Islands, as well as beautifully landscaped La Gorce Island, and Star Island. South Beach, with it's luxury condos, is home to people from all over the world. Indian Creek is a small city, with ultra luxury homes and some of the most desirable properties in Florida. Fisher Island is America's wealthiest zip code. The luxury homes of Gables Estates in Coral Gables are secluded and removed from the busy city life. Miami real estate is truly international. If you seek a destination that is rich in history and offers great weather, award-winning beaches, and a wide variety of real estate, you've found it in Miami.
Forbes Names Miami As America's Happiest City To Work In
Housing Market Shift a Microcosm of What Miami Can Expect - Aug 2020
Kanye West Just Bought This Brand New $14 Million Miami Beach Condo As A Christmas Present For Kim Kardashian - January 2019
Harvard Study Links Rising Tides to Miami Home Values - August 2018
Miami Property Sales Fall As Foreclosures Continue to Rise - August 2018
Home Sales Fall 13% in Miami As Luxury Sales Rise 24%

Miami Luxury Homes Are Still A Great Value And This Is Why
Miami Real Estate Market Report
Miami's Most Expensive Home Sold For $60 Million
LeBron James Lists His Miami Home For Sale For $17,000,000
Update: Sold for $13,400,000
Lebron James listed his home for sale for a whopping $17,000,000, a price $8 million more than he paid for it in 2010 when he joined the the Miami Heat NBA basketball team. The home, located at 3560 Crystal View Court in Miami is just a stone's throw away from the American Airlines Arena where the Heat play their games, and may well be the reason that James chose that location. At first look it seems that the home is substantially overpriced at $17 million, as it was when Lebron purchased it for $9 million, a dollar amount far exceeding what a knowledgeable person would have thought reasonable in 2010. Nevertheless the King owns it, and he may be hoping that his name will bring added value to the property. The Miami property is advertised as a palace overlooking the open bay, and belonging to the king. The contemporary compound features a chef's kitchen, a sommelier's wine cellar, a custom theater, a generator, a guest home and a private master rooftop sun deck. Glass doors open to covered terraces throughout. Enjoy luxurious outdoor living with 4,500 square feet of entertainment space, an infinity edge pool and a concrete dock for two 60' yachts. The private estate is walled and gated with a state-of-the-art security system, as well as security quarters. The 3-stories estate boasts water views from every room. A third floor master suite includes a huge balcony overlooking Biscayne Bay.

LeBron James House In Miami Coconut Grove Neighborhood
Miami Homes For Sale
900 Biscayne Condos For Sale - Asia Condos For Sale - Bristol Tower Condos For Sale - Carbonell Condos For Sale
Epic Condos For Sale - Four Seasons Condos For Sale - Grovenor House Condos For Sale - Icon Brickell Condos For Sale
Jade Brickell Condos For Sale - Marina Blue Condos For Sale - One Thousand Museum Condos For Sale
One Thousand Venetian Condos For Sale - Paramount Bay Condos For Sale - Ritz Carlton Condos For Sale
Santa Maria Condos For Sale - Ten Museum Park Condos For Sale - Three Tequesta Point Condos For Sale
Two Tequesta Point Condos For Sale - Viscayne Condos For Sale - Miami Homes - Miami Condos
Miami From Above
$65 Million La Brisa Mansion Listed For Sale In Miami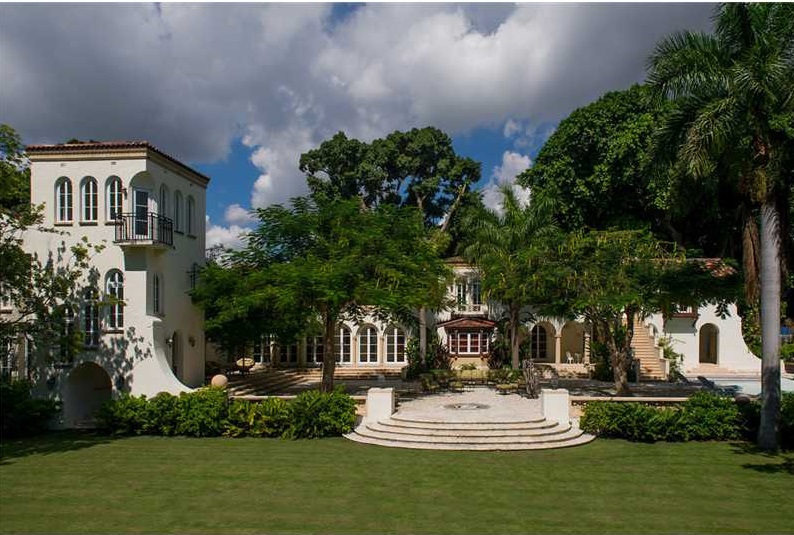 La Brisa Mansion In Miami Coconut Grove Neighborhood For Sale $65 Million
BACK TO TOP

Miami real estate, with it's beautiful homes and condos, and the surrounding metropolitan area sits between the Miami River, Biscayne Bay, the Everglades and the Atlantic Ocean. It is the second largest city in Florida and the county seat (and largest city) of Miami-Dade County. It is also the largest city in the South Florida metropolitan area, which is comprised of Miami-Dade County, Broward County, and Palm Beach County making up the largest metropolitan area in the Southeastern United States. Miami, which is also known as the Magic City, was originally occupied by the Tequesta Indians. In the1960's and 1970's, Miami's population was sparse. The Miami real estate market began when Julia Tuttle, a local landowner, persuaded the founder of Standard Oil to expand his railroad to Miami and build his own resort. On July 28, 1896, Miami's real estate market was given life. Miami grew rapidly in its first 30 years. After World War II, Miami's real estate was fueled by the area's perfect weather and tranquil beachfront location. However, the real estate development was cut short by a destructive hurricane followed by the Great Depression. In the mid-1930's, the Art Deco buildings were constructed and this boom in the real estate continued until 1942. After World War II, thousands of Miami's soldiers settled in the city. In 1950, the once called City of Magic became the "Crime Capital" when thousands of gangsters and gamblers moved to Miami. By the late 1980's, Miami rose to international popularity when a movie was set in the city and gave Miami the deserving attention it wanted and needed. People from all over the US moved to Miami and tourists were coming to experience the place. Today, Miami stands as the third most popular tourist spot in the US after New York and Los Angeles.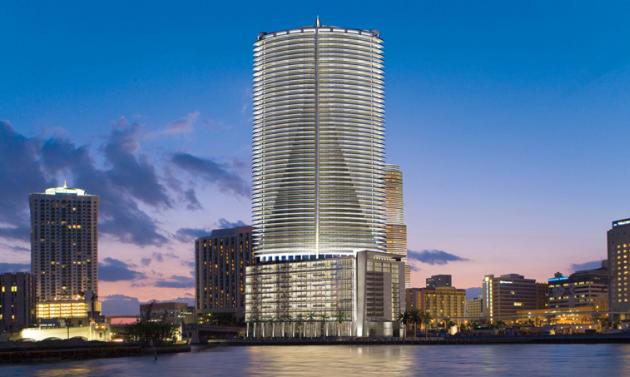 Epic Condo and Hotel In Downtown Miami
Enrique Iglesias Miami Home Sold For $6.7 Million
Enrique Iglesias Miami home was just sold for $6.7 million. The famous South American singer son of Julio Iglesias purchased the property in 1996 for $640,000 and subsequently built the 6,382 square feet 5 bedrooms home. Situated on a 18,525 square feet wide bay lot, the Iglesias property at 4411 Sabal Palm Road in Miami's exclusive Bay Point community was on and off the market for sale for several years, before it sold yesterday. Rumor has it that the 38 year old star's relationship with longtime girlfriend Anna Kournikova is on the rocks. Another late newsbyte today is that the buyer is none other than President Obama appointee Stephen N. Zack. The sale is more evidence of an improved Miami real estate marketplace which may soon become a seller's market.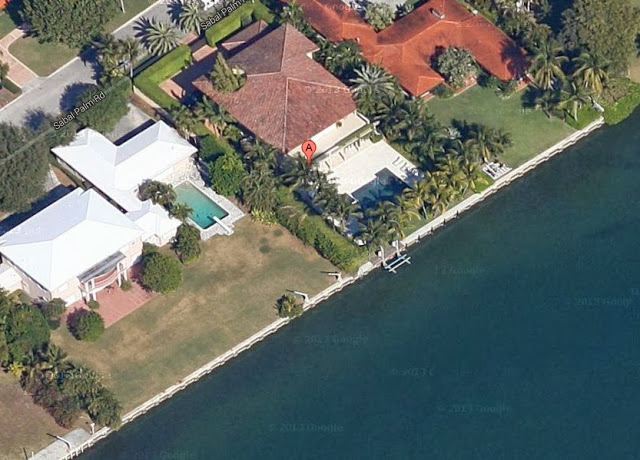 Enrique Iglesias Miami home
Miami Home Prices Up More Than 13 Percent
According to an Associated Press report Miami real estate prices increased by 13.5% in Miami-Dade this June from June 2012, when distressed sales were included in the statistics. Without the inclusion of the 2012 distressed sales, prices for homes and condos in Miami increased by a whopping 18.2%.
In Broward County, home prices had a similar surge, although not as great as in Miami. Broward home prices increased by 13% in June this year compared to the same month in 2012. Without the inclusion of distressed sales, the price increase was 15%. The primary reason for the jump in prices is the substantial decrease in homes for sale, as homeowners hold back from listing the properties for which they paid more in previous years than their present value. It appears that residential real estate will soon turn into a sellers market in the Miami area, so homeowners and buyers can expect continued increases in sales prices, and buyers may want to keep that in mind when searching for a home.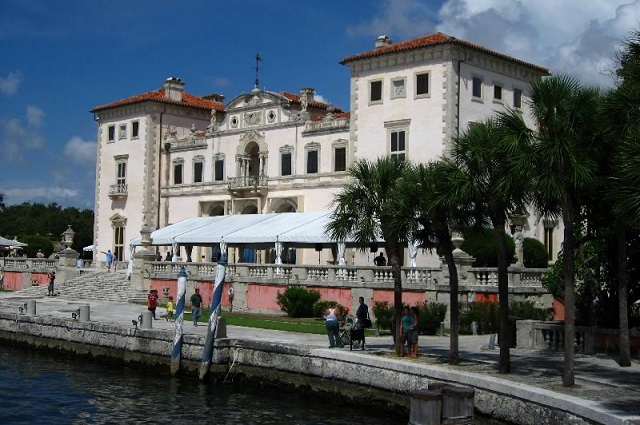 Viscaya Museum Miami One Of Miami's Most Beautiful Properties
BACK TO TOP

Miami Real Estate Prices Poised To Increase With Gaming
Miami real estate values may once again increase, as gaming becomes a real possibility in Miami-Dade County. Rep. Erik Fresen, R-Miami, and state Sen. Ellyn Bogdanoff, R-Fort Lauderdale, will file gaming bills this month, according to a report in the Miami Herald last week. The gaming bills will ask for permission to build three large resort casinos in the Miami area, and will seek a gambling commission for Florida, according to the Miami Herald report. Gaming licenses, which are presently housed under the DPR (Department of Business and Professional Regulation), will most likely be treated as a unique industry which would be regulated seperately from other types of state licensing. Genting Malaysia, a multibillion dollar casino group, may not take kindly to the idea of regulation changes, in light of their plans to build a $3 billion hotel casino facility in Miami. In addition, one cannot overlook a pending court case, where the issue in question is whether or not gaming legislation must come through a state constitutional ammendment. If gaming does come to Miami, real estate prices are sure to climb substantially, with an influx of new homeowners from all over the US, and from all over the world. Miami is well known as one of the worlds truly international cities.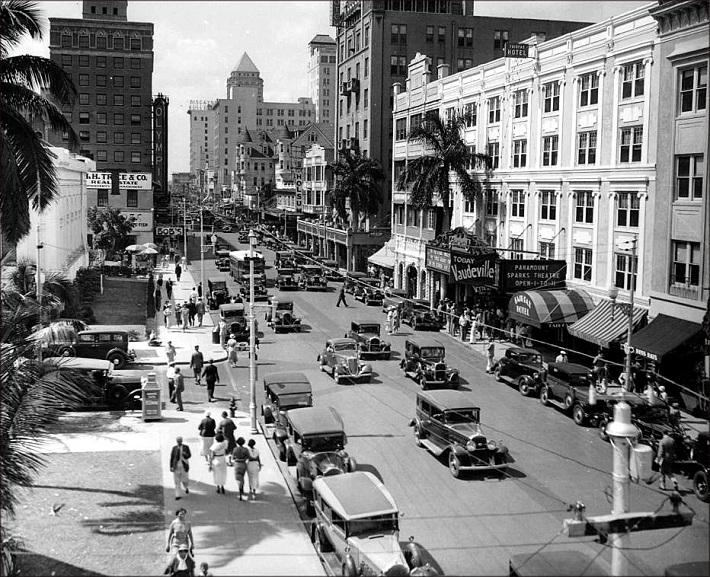 Miami in 1934
Miami Real Estate Market Update
Miami real estate asking prices are still too high, and sellers still don't get it. If one drives around Miami Beach, or Coral Gables, particularly in those areas where luxury homes are located, it becomes painfully obvious that there are almost as many homes for sale now as there were in early 2009, when the real estate market in Miami took a deep dive. Many homeowners who want to sell, but whose homes are not up for sale, report that they are waiting for the market to change, before they place signs in front of their houses. They feel as though they will not be able to get what they consider to be a good price for their property if they try to sell now. The reality is that they are not going to be able to get what they consider to be a good price, whether they wait or don't wait, because the fact is that sales prices are where they should be. Prices that homes were selling for in 2004 and 2005 were so inflated that when the bubble finally burst, almost everyone was shocked, and now in 2011, sales prices of single family luxury homes are more or less the same as they were 7 years ago -- exactly where they should be. It is understandable why sellers are frustrated, because in America real estate is supposed to appreciate, and if prices are the same now as they were so long ago, it is very hard to accept. However, if homeowners who want to sell, come to the realization that 2004 and 2005 home prices were based on greed alone, and not on value, it may well become a little easier to accept. Realtors are also very much to blame for the frustrations of homeowners, because in their zest to get a listing, they tell a homeowner whatever he/she wants to hear, in order to secure the listing. The owner, of course, believes the realtor, gives the agent the listing, and then becomes extremely frustrated, when 6 or 12 months pass by, and the seller receives no offers on the property. What is the answer? It is very simple. Realtors need to tell the truth to homeowners, and homeowners who want to sell must necessarily become a lot more realistic than they are.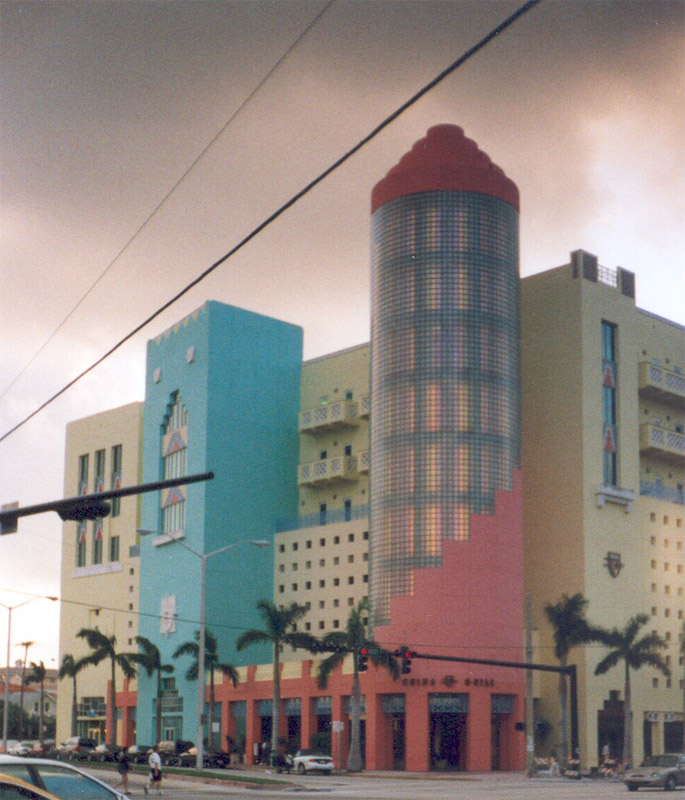 Scene From Historic Miami Beautiful Art Deco Building
Report: LeBron buys Miami mansion
ESPN.com news services
Updated
King James has a new palace. The Miami Herald reports that first-year Miami Heat star LeBron James purchased a three-story mansion overlooking Biscayne Bay in Coconut Grove, a neighborhood of Miami, Fla., for $9 million. County records show the sale closed on Nov. 12 and was first reported by real estate broker Alex Shay on Nov. 19 on his Miami Real Estate Blog. The 12,178-square-foot estate has six bedrooms and eight and a half bathrooms. The house also has a wine cellar, library, home theater, three-car garage and guest house. It also includes an infinity pool, bar and a dock that can fit two 60-foot yachts. Records show the home was purchased by Suite 823 Investments Florida LLC. According to the Associated Press, Suite 823 is the Cleveland headquarters of LRMR Marketing, a company James founded with Maverick Carter and two other friends. The news was reported earlier by The South Florida Business Journal.
Miami Heat's LeBron James buys Coconut Grove mansion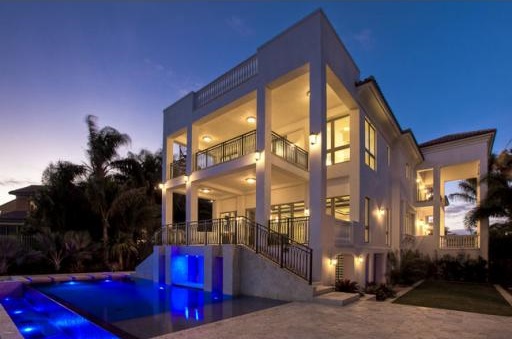 LeBron James home in Miami Coconut Grove Community
BY TANIA VALDEMORO
tvaldemoro@MiamiHerald.com
The Miami Heat's LeBron James has bought a three-story mansion overlooking Biscayne Bay in Coconut Grove for $9 million. The sale closed on Nov. 12, county records show. The transaction was first reported by real estate broker Alex Shay on Nov. 19 on his Miami Real Estate Blog. Shay said a previous owner of the home had contacted him after he heard that the basketball star bought the property. The 12,178-square-foot estate, at 3590 Crystal View Ct., has six bedrooms and eight and a half bathrooms and boasts water views from every room. There's a wine cellar, library, home theater, three-car garage and guest house. Outside, there's an infinity pool and bar and a dock that can fit two 60-foot yachts. Records show the home was purchased by Suite 823 Investments Florida LLC. According to the Associated Press, Suite 823 is the Cleveland headquarters of LRMR Marketing, a company James founded with Maverick Carter and two other friends. The news was reported earlier by The South Florida Business Journal. It's also where the New York Knicks and the New Jersey Nets went to woo James this summer before he committed to the Miami Heat.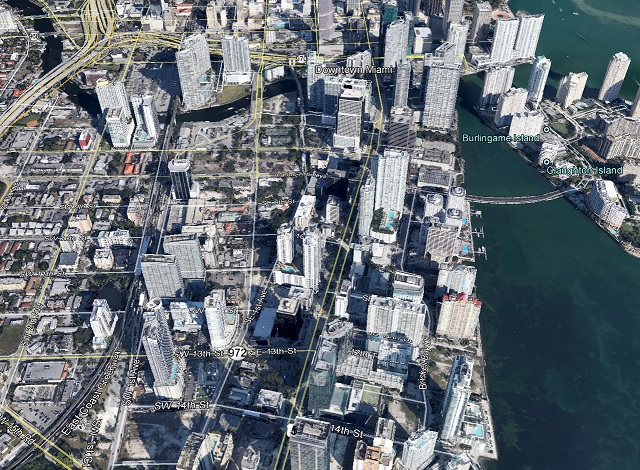 Downtown Miami Areal View
LeBron James Buys Miami House For $9,000,000
LeBron James, Miami Heat basketball star, just bought a Miami home, according to the grapevine. The beautiful house, located in the Coconut Grove area of Miami, has 6 bedrooms and 8 and 1/2 bathrooms, with more than 12,000 square feet of interior living space. The lot, 19,941 square feet, is a tad small for such a grandiose mansion, but the proximity of the property to American Airlines Arena, where the Maimi Heat play their home games, may well have been a deciding factor for Mr. James decision to buy the home. The 3-stories estate has water views from every room, and a 3rd floor master suite, which boasts a huge balcony overlooking Biscayne Bay. The Miami home, just completed in 2010, also has a concrete dock, suitable for two 60 feet yachts. Previously purchased in 2005, for $3,500,000, the property was razed, and a new home was built. The owner listed it in January of this year for $12,900,000, and reduced the price to $11,900,000, before James purchased it for $9,000,000.
Miami Makes Forbes List Of America's Most Expensive Communities


Gorgeous Miami Home
Miami's own Fisher Island, Miami Beach, just ranked by Forbes as #37 of America's most expensive zip codes, boasts a not too shabby median home price of $2,295,291. Forbes just published it's new list, with 4 Miami zip codes earning a spot as one of America's highest priced places to buy a home or condo, including aforementioned Fisher Island (33109), Key Biscayne (33149), Coral Gables (33146), and 2 small communities just north of Miami Beach -- Bal Harbour and Indian Creek (33154). The report stated that these 4 zip codes make Miami one of the most expensive places to buy property in the United States, in spite of the fact that home prices have plummeted sharply in recent years, and that foreclosures have continued to mount. Hi-end luxury home prices have seen a slowing slide, according to Mike Simonsen, CEO of Altos Research, a Mountain View, Calif., firm that tracks housing market data. "We have yet to see mortgage defaults climb aggressively into higher-priced homes, but there are some signs that those could hit in next twelve months" Simonsen said. "If those mortgage resets drive inventory at the higher end, that would cause major problems." Although it does seem as if the luxury real estate market in Miami has all but slowed to a halt, a number of luxury realtors are reporting that foreign buyers are re-entering the market place to pick up those hi-end bargains which may no longer be as available in a year from now.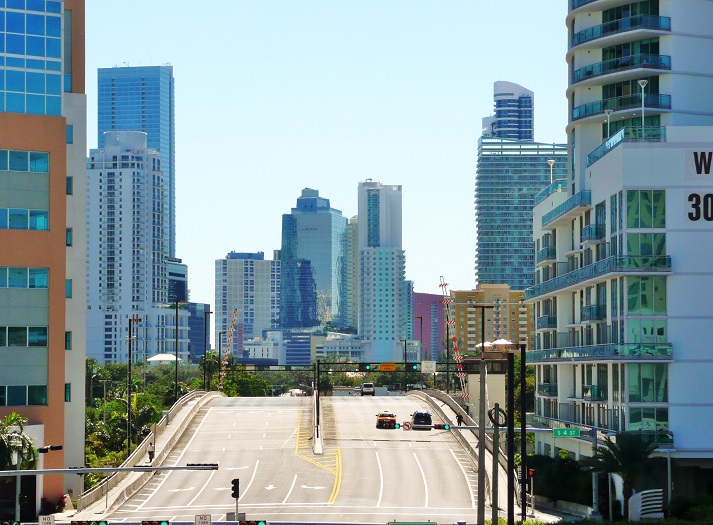 The City of Miami - Brickell Avenue
BACK TO TOP

Miami Real estate community on fire over LeBron James' housingoptions
Even before LeBron James announced he'd be coming to South Florida, which South Florida luxury home he would choose was being discussed
By TOLUSE OLORUNNIPA
tolorunnipa@MiamiHerald.com
What piece of prime South Florida real estate is fit for a king? LeBron James landed in Miami on Friday after making the announcement he would be leaving Cleveland to join the Miami Heat, but even before that, the local real estate circuit was abuzz with questions of where the multimillionaire athlete would live.According to analysis by Esslinger-Wooten-Maxwell Realtors, James will have plenty of multimillion dollar properties to choose from -- 355 Miami-Dade properties were listed for sale at prices above $4 million in May. Some of those properties -- and some unlisted mega-mansions -- have been in the spotlight this month, as rumors swarmed that James had been shopping for real estate in South Florida in recent days. On Thursday, Miami-based luxury Realtor Alex Shay began hearing rumors from other agents that James had put in a $49.5 million offer on a Gables Estates home being sold by auto tycoon Alan Potamkin.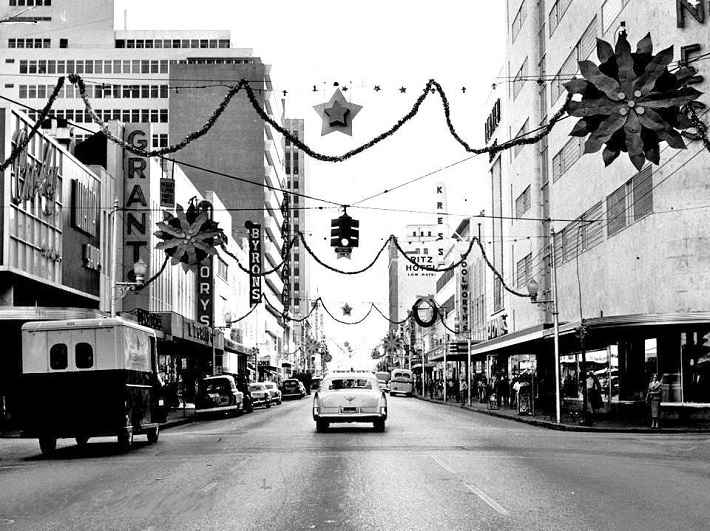 Flagler Street in Miami, Florida - Circa 1955
The home, at 11 Casuarina Concourse, in Coral Gables, features 20,088 square feet of living space, eight bedrooms, 11 bathrooms and 800 feet of water frontage. ``It's a great big property on three great big acres of land -- it has all the bells and whistles, it has all the goodies that you want in a home,'' said Shay, who posted the rumor on his real estate blog. ``It's the second-highest priced property in Dade County.'' The most expensive home, an Indian Creek Village waterfront mansion listed at $60 million, is still under construction. Other homes for sale in that neighborhood include a six-bedroom, six-bath listed at $12.9 million, a 17,000-square foot mansion listed at $17.9 million and a Mediterranean style villa with seven bedrooms listed at $6.5 million. Heat president Pat Riley also owns a Gables Estates mansion.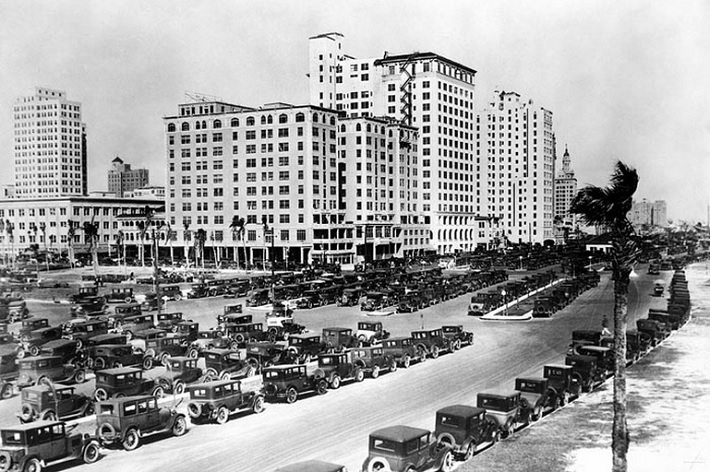 Biscayne Boulevard, Miami Florida Circa 1927
If James, 25, wants to settle in at a bachelor pad in one of Miami's luxury condominium buildings, he could opt for a high-rise in downtown Miami or South Beach. A website launched weeks before James decided to come to Miami pitched a 4,200-square-foot Miami condo as ``LeBron's Future Miami Penthouse.'' It features 20-foot floor-to-ceiling windows, view of Biscayne Bay and, an extra perk, it's right across the street from AmericanAirlines Arena. The corner unit, at Marina Blue condominium, is on the market for $3.3 million. Judging from the castle James will be leaving behind in Ohio, a condominium would likely mean a major space downgrade, so speculating Realtors are betting he'll end up in a single-family home. James built a 35,000-square-foot mega-mansion outside of Cleveland in 2008, completely razing the 11-bedroom home that was on the land in order to erect the giant abode. The home includes a theater, recording studio, casino and more. ``Barbershop, bowling alley, ATM machine, Starbucks, all that,'' he told Jimmy Kimmel in a 2009 interview. ``You're going to have to do a show live from my house.'' With South Florida's home values still far below their peak, James could end up getting a bargain on a luxury property. ``He could probably make a great deal,'' Shay said. ``It depends on the house or the seller or the motivation of the seller, but there are good deals out there.''

Introduction To Miami
Miami Luxury Homes Sold For Bargain Basement Prices
Miami luxury home at 221 Casuarina Concourse, Coral Gables, Florida
Miami luxury homes have been selling at a snail's pace in the past few years, with only 42 luxury homes with water frontage, sold in greater Miami Beach in 2009. Miami and Coral Gables have also experienced dismal home sales and huge price drops. All of this points to a bottoming out of the luxury real estate market in Miami. More luxury home buyers have re-entered the marketplace, and more sales are closing. Recently, a fine luxury home in Coral Gables, located at 221 Casuarina Concourse, sold for $7,750,000. The property is just a stone's throw away from one of the most expensive homes in all of Miami, Alan Potampkin's Coral Gables mansion at 11 Casuarina Concourse, offered for sale for a whopping $49,500,000. The 11,402 square feet, 8 bedrooms, 11 bathrooms home, situated on a 34,876 square feet lot was purchased in 2006 for $9,775,000, and closed last month for $2,025,000 less than the seller paid for it 4 years ago, in February 2006. Many home sales in Miami have mirrored this one, as sellers become more realistic, and realize that times have changed dramatically, particularly with respect to the Miami real estate market. Many Europeans are visiting Miami this month, and some of them are taking advantage of the best buyer's market that Miami has seen in many years. It can truly be said that there has never been a better time than now, to make a great deal on a luxury home or condo in Miami.

Miami Condo Prices At Icon Brickell Continue To Fall
Miami condo owners, who have listed their condos for sale, have all become acutely aware of the steep fall in value of their apartments. The over development of many huge buildings with hundreds of apartments, and no buyers, along with the foreclosures of thousands of other condos in Miami, has brought the condo market to it's lowest level in memory. The good news is that condos can be purchased at prices that would have otherwise been unthinkable. Luxury real estate at low prices, relatively speaking, has become the norm in Miami. The Icon Brickell, a 3 tower complex, with 1,796 units, one of the biggest developments in Miami in recent years, has dropped prices more than 50% on units in the third tower. Condos in the Icon Brickell that were selling for $680 per square foot, just a few years ago, can now be purchased for as low as $298 per square foot of interior living area. Condos in the other two towers have dropped about a third in value. Related Group, the developer of the ultra luxury 3 tower project, is counting on Latin American buyers to come in, and snatch up the multitude of available units, at the steeply reduced prices. For those interested in living in a great area in the heart of Miami, the Icon Brickell is a good choice, and an opportunity to live in a building that is state of the art.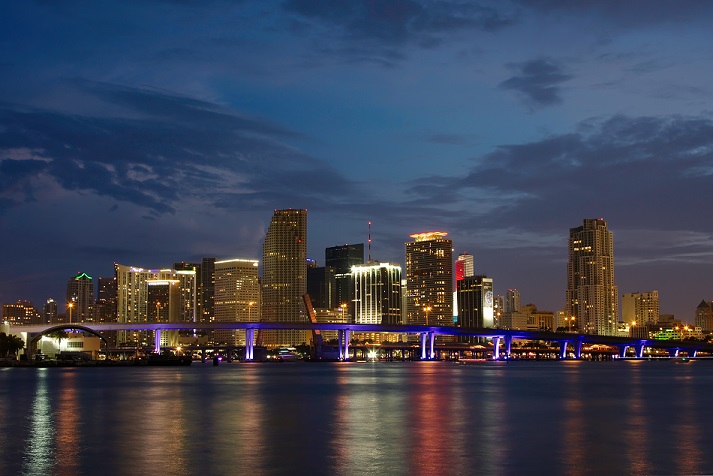 Miami At Night
Miami Real Estate Undergoes Changes
Miami real estate is undergoing some changes that are truly mind boggling. Some homes are selling for remarkably high prices, given today's economic climate, while others are selling at prices well below market value; and some sellers still don't get it. Last week a beautiful new home was listed for sale in the Miami MLS (multiple listing service) for an asking price of $3,990,000. At first glance, this didn't seem like an outrageous price for a brand new house on the exclusive Venetian Islands in Miami Beach, with 4,600 square feet of interior living space, and 5 bedrooms. At a second glance, one notices two very important factors -- that the house sits on a lot measuring 7,200 square feet, and that the property is not a waterfront home. That means that the seller is askingapproximately $867 per square foot of living space, for a house on a lot which is less than three quarters of the size of most waterfront lots on the Venetian Islands. Waterfront homes on the Venetian Islands have been slow to sell recently, and there are many waterfront houses for sale now. Sales of bayfront homes vary widely in terms of price per square foot, but $600 to $850 per square foot of interior space, can be used as a "rule of thumb" with regards to sales prices. It begs the question, how does a home owner of a non-waterfront property come to the conclusion that he/she could possibly get anywhere close to the asking price, or even half of the asking price of $3,990,000? It is mind boggling, and one of the reasons that real estate in Miami is undergoing such turmoil. On the other hand, sales of luxury homes on Miami Beach are still being made, albeit at a snails pace. Very recently a beautiful Miami Beach house on the Sunset Islands sold for $9,500,000. The 9,993 square feet mansion, situated on a 20,000 square feet waterfront lot, located at 1400 W 28th St. on Miami Beach, boasts 7 bedrooms and 7.5 bathrooms, and is a Mediterranean work of art, with fine marble, hardwood, and keystone floors. Although the asking price for the estate was $15,900,000, the property closed for just over 59% of the asking price. Condos are moving slowly as well. Last week a beautiful condo at the Four Seasons in Miami sold for $1,000,000. The 2 bedrooms 2.5 bathrooms condo located at 1425 Brickell Ave on the 48th floor (48C), was a great buy for the new owner, at approximately $468 per square foot of interior space.
Miami in 1946

Miami Real Estate
Miami Real Estate Market Sees Spark Of Light
Miami real estate has undergone its share of turmoil in the past few years, and many homeowners have suffered as a result. However, there are signs that a bottoming out is taking place right now, at least with respect to the sale of single-family homes in the Miami area. The latest statistics documented by Realist.com, showed a substantial increase in sales of single-family residences this July over July 2008. Last month 1,622 homes sold, as compared to 1,277 in July of 2008, a remarkable increase of approximately 27%. That is the good news. The bad news is that median home prices dropped considerably from a year ago. The median home price in July 2008 was $249,000, and last month, it was $206,000, a decrease in value of more than 20% from a year ago. Condo sales tell a far different story. The overbuilding of condominium towers by greedy developers over the past several years, has taken its toll on thousands of Miami residents. In July of 2008 the median sales price of a condo in Miami was $348,000, and one year later, in July 2009, the median price dropped to $230,000, reducing the price of a condo to only 66% of its value just 12 months earlier. Sales have also dropped substantially in the Miami condo market. In July of 2009, only 1,524 condo units sold in Dade County, as compared to 2,441 sold apartments in July 2008, a drop of more than 40% in number of sales from the same month, a year earlier.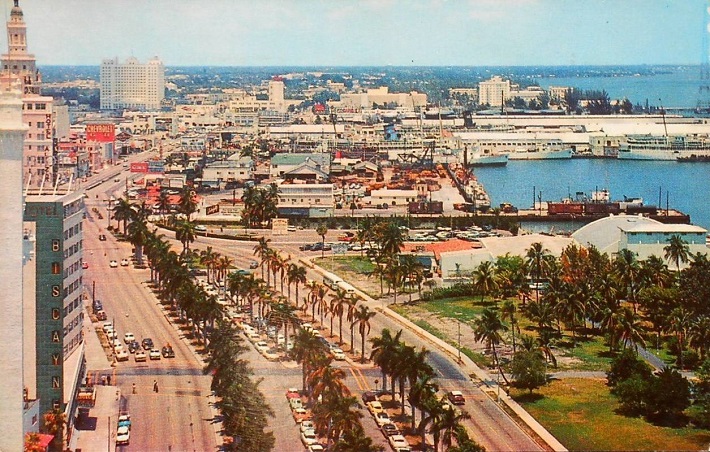 Rare Photo View of Biscayne Boulevard Looking North in Miami, Florida - Circa 1958
Miami Real Estate Boom (The Boom That Was - Circa 2004)
The real estate boom in Miami has ended. The copy below will give you a good idea of where Miami real estate was just a few years ago. The number of real estate projects being developed all throughout the city proves Miami's exceptional growth. Last year, the Planning Department reviewed 104 major development projects. Out of the 104, the City Commission approved 25 projects. The approved 104 projects gave way to 20,100 new residential units, 800 hotel rooms, and 12,800 parking spaces. All the approved developmental projects amounted to a total construction cost of US$7.8 billion. Miami caters to all real estate investors by providing numerous opportunities to buy and sell properties. With a variety of single-family homes, commercial spaces, waterfront homes, and condominiums, both the realtors and homebuyers are provided with a number of choices. During the first months of 2005, the Miami condominium market started to heat up. Last month, a total of 19,660 condo units were just finished, is still under construction, and in the planning stage. New condominium constructions such as Brickell CitiCenter, Icon Brickell, Soleil, Urban River, and Ehden Placea won approval for new units. With the new developments in Miami real estate, the values are expected to increase which would demonstrate real estate developer's timely and accurate investment judgment. Values of each condo unit have averaged at about US$300,000. Investment experts say the boom in the Florida real estate market is because of economic factors and demographic causes. Developers expect the real estate values to continue growing as the projects are being developed. However, with Miami's real estate history, the city would always find a way to stand up against the market drop off and continue to develop their magnificently popular city.
BACK TO TOP

South Beach Condos
1500 Ocean Drive Condos For Sale - Bentley Bay North Condos For Sale - Bentley Bay South Condos For Sale
Bentley Hilton Beach Condos For Sale - Capri South Beach Condos For Sale - Glass Condos For Sale
Icon South Beach Condos For Sale - Il Villaggio Condos For Sale - Mondrian South Beach Condos For Sale
Murano Grand Condos For Sale - Netherland Condos For Sale - Ocean House Condos For Sale - One Ocean Condos For Sale
Portofino Towers Condos For Sale - The Tides Condos For Sale - W Hotel Condos For Sale - Yacht Club At Portofino Condos For SaleMiami

Beach Condos
Akoya Condos For Sale - Azure Condos For Sale - Bath Club Condos For Sale - Blue Diamond Condos For Sale - Canyon Ranch Condos
Edition Residences Condos For Sale - Fontainebleau II Condos For Sale - Fontainebleau III Condos For Sale - Green Diamond Condos
La Tour Condos For Sale - Mosaic Condos For Sale - Solimar Condos For Sale - The Caribbean Condos For Sale - Villa Di Mare Condos