Aventura Real Estate
Aventura Homes and Condos For Sale < click to see what's for sale in Aventura

Aventura Florida Ocean View
Aventura Mall Poised To Become America's Most Popular Mall
Aventura Mall is the most popular mall in the Miami area, and is the largest in Florida, boasting 2.7 million square feet of retail space, with more than 300 stores, shops, restaurants and kiosks to please almost any shopper. Aventura Mall, according to recent reports, has been attracting approximately 28 million visitors per year, making it the second most visited mall in the USA, the first being Minnesota's Mall of America. However, that is all about to change. Aventura Mall is expanding, and will soon be a lot bigger with the planned inclusion of a new 3 level wing of upscale stores, located outside of Aventura Mall's food court, as well as a new and huge parking lot located outside of J.C. Penney's.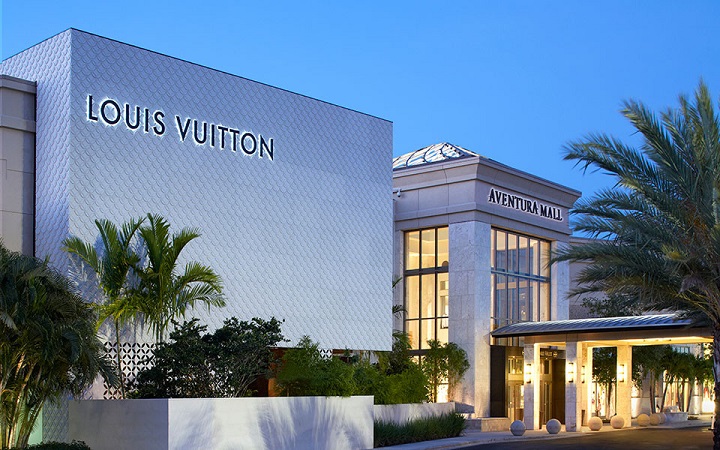 Aventura Florida - Mall Entrance
Aventura Mall was the fourth most visited attraction in the Miami area in 2013, according to a recent report by the Greater Miami Convention and Visitors Bureau, and it can be said that the mall is now Miami's premier fashion destination. One can visit stores like Macy's and the Gap, or some of the most high end stores in the nation, such as Louis Vuitton or Tiffany and Company, all in the same location. Aventura real estate - the urban suburb: once little more than a Miami suburb that housed a big mall, the City of Aventura, Florida is now a dense, mixed-use urban enclave. for decades, ship builders have been making noise in Aventura's industrial peninsula nicknamed Thunder Alley. Today, the waterfront strip is known more for the creaking of construction cranes than the screeches of sanders on fiberglass hulls. Thunder Alley will soon be teaming with condo dwellers: five projects are currently approved or under construction on Northeast 188th Street, just behind Loehmann's Plaza. Like much of Miami-Dade County, Aventura is taking advantage of a real estate development boom that has seen assessed property values rise 17 percent over last year and is drawing new people to the area.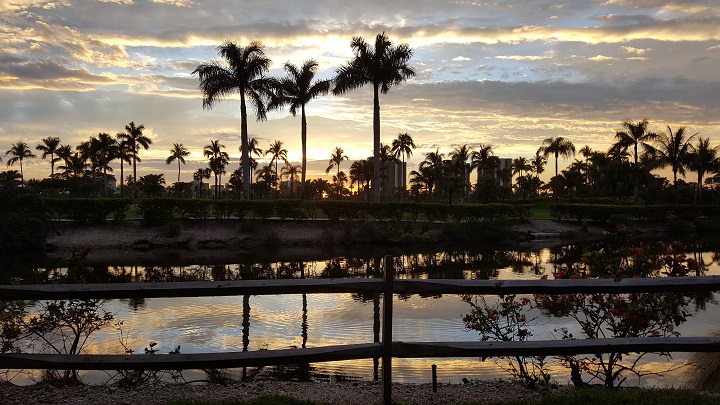 Dusk at Turnberry in Aventura Florida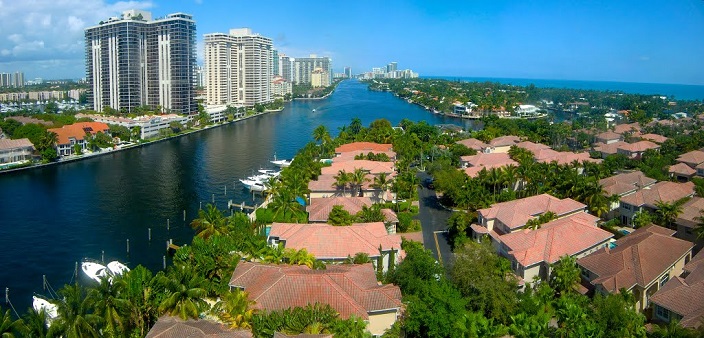 Aventura On The Left (West) And Golden Beach On The Right (East) Side Of The Waterway Rare Areal View
South Florida's Last Private Island In Aventura Is A Sinking Project
Update 2016 - Privé is Now Under Construction
The last private undeveloped island in Miami or anywhere in South Florida may remain that way for a very long time. Gary Cohen, who owns the island, which he has named Privé, has plans to develop twin towers with 160 condo units, but those plans may remain just that, as some Aventura homeowners are determined to ensure that the project ends up sinking dead in the water.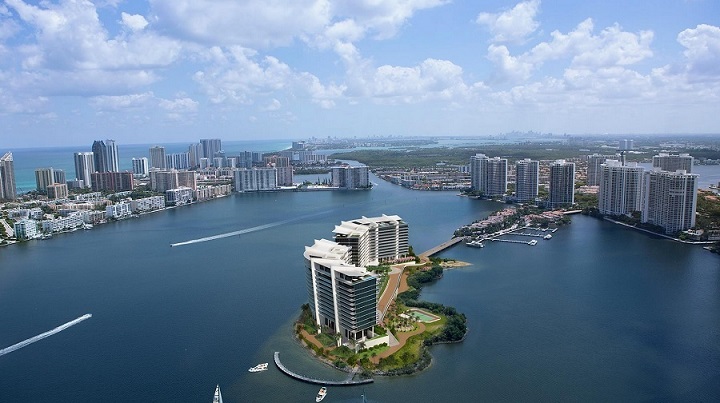 Prive Condo Rendering In Aventura
The reason -- there is a single road leading on to the island, and the road is lined with approximately 20 homes valued at $5 million or more. Cohen made a deal with the City of Aventura to pave that road by installing sidewalks along the street leading to his private island. He never installed any sidewalks, and now he can't. In order to start his condo project, he would have to buy a piece of each homeowner's land to make room for a sidewalk along the road leading to his island. However the last thing that the wealthy homeowners want is an easement with more traffic along their practically private road. All of the present homeowners are rightfully refusing to cooperate with Mr. Cohen. Cohen, in order to enrich himself much more than he possibly could by building single family homes on the island, which he can do without paving, is trying to fight it out in the courts. So far, two judges have agreed with the homeowners, so Cohen took his case to the Florida Third District Court of Appeals, and a hearing is set for early next year. Although no one can guess what a different judge might rule, it appears that Cohen is fighting a losing battle.
Last Private Island In Aventura - Prive Condos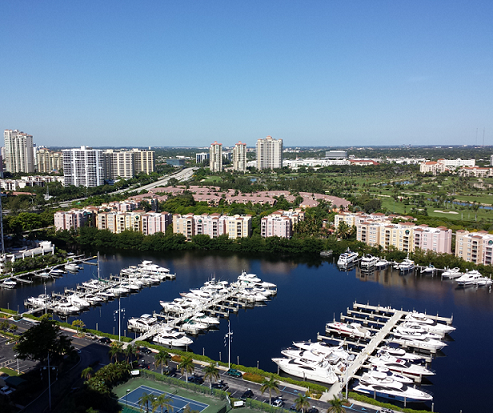 Aventura Florida

Aventura Florida - An Introduction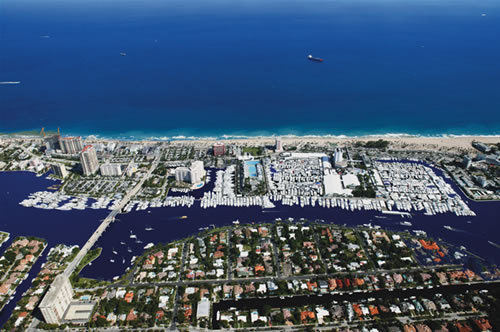 Aventura Arial Photo Overlooking Atlantic Ocean
"One of the reasons it [Aventura] is beginning to be called the Beverly Hills of Florida, is because ... its natural geographic location that puts it right in the middle between the Miami airport and the Fort Lauderdale airport, and very very close to the ocean," says Claudio Stivelman, president of Aventura-based Shefaor Development. Waterfront coupled with new charter schools and the completion of a recreation center in the area has made it a popular choice for high-end condo developers like Shefaor. The company is developing two condominium buildings there--Uptown Marina Lofts and Artech Residence. They will stand alongside The Eastside at Aventura, The Atrium at Aventura, and 3030 Aventura. All are either seven or 11-stories tall and will yield nearly 750 new residential units when completed.
BACK TO TOP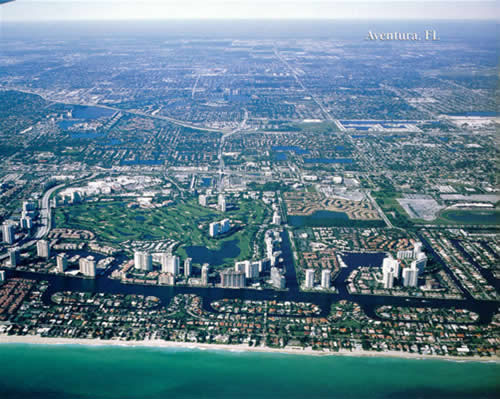 Shefaor's projects are some of the most ambitious for their size--Uptown Marina has 216 units and Artech has 234. Prices range from $300,000 to $2 million and each of the projects will have a marina and condo boat slips. The Atrium at Aventura, another luxury waterfront condominium being built at NE 188th Street, recently changed hands. New owners GM Atrium LLC, part of the Gates McVey family of companies, still plan to go ahead with the original design for three atriums topped by a crystal pyramid ceiling. Twin, 12-story buildings will house 192 residences. The largest development going up in Aventura right now is The Venture--a 500-unit seven and 11-story condominium project by The Related Group of Florida, located at the end of NE 188th Street. Those units went for between $179 and $270 per square foot.Roberto Rocha, executive vice president of The Related Group, says the project sold out in just one day. The Venture is scheduled to be completed before the end of the year, and is considered phase one of an Aventura Town Center the city is trying to develop.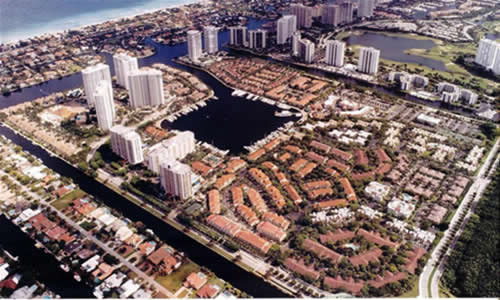 The conceptual plan for this town center, according to the city's development director, Joanne Carr, calls for a fountain, a gathering area, a mix of retail and residential buildings, office buildings, restaurants and parking garages. A mixed-use town center coming out of what is now a retail shopping center is a natural development for a city that seemingly grew out of Aventura Mall. It is another step in a growing South Florida trend of merging retail and residential, following in the footsteps of the Village of Merrick Park in Coral Gables and Mary Brickell Village in downtown Miami. Phase one of the Aventura town center required tearing down a vacant theater and moving only a few tenants, says Barry Quiner, vice president of Prudential Real Estate Investors, the current owners of much of the site's retail space. Proposals for future phases involve a redevelopment of Loehmann's Fashion Island a thorny proposal since many existing tenants have leases that extend beyond 2010. According to Quiner, Prudential is already in negotiations with major tenants like Barnes & Noble Inc. and Publix Supermarkets. "Our expectation is that we would come tosome agreement with the major tenants for redevelopment," says Quiner, who notes that there is no timetable for the additional phases. "We are actively pursuing options right now with those major tenants to come up with a workable next phase." For now though, Carr looks to residential projects as a key to plans for the whole area. "The residential was built first to be the spark of the redevelopment of the balance of that site," she says.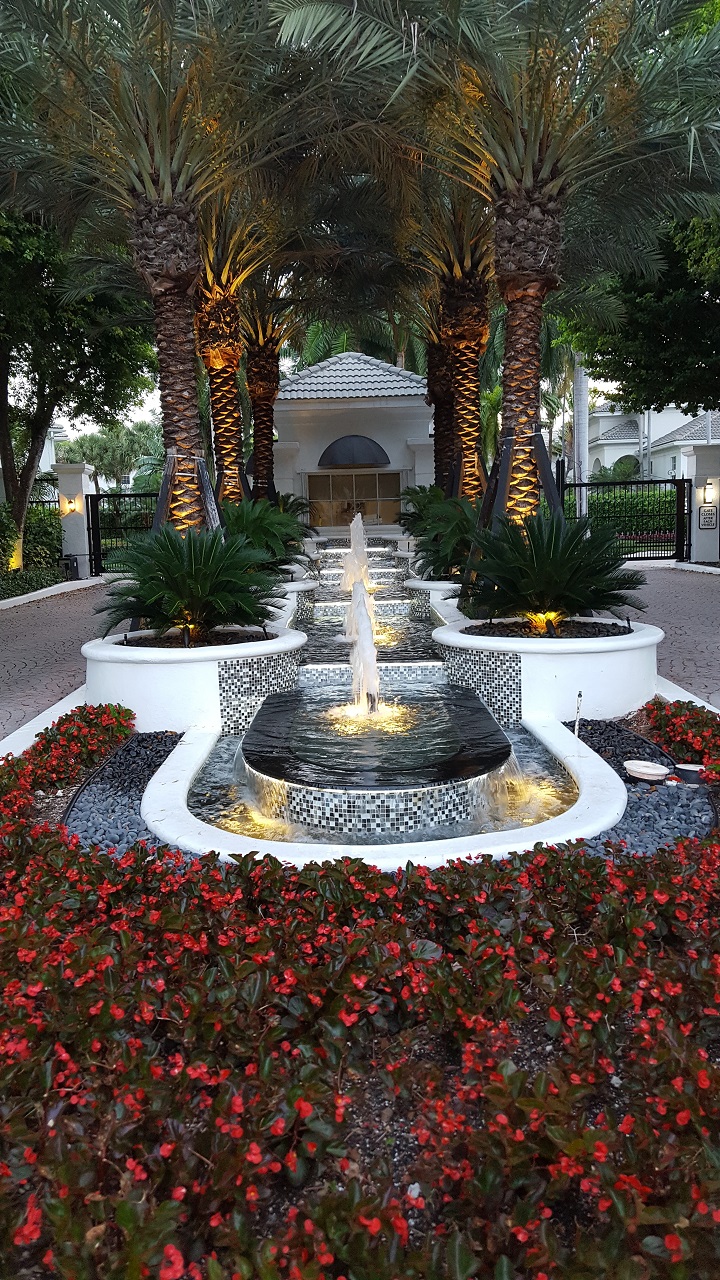 Aventura Florida is accentuated with beautiful lush landscaping
THE NEW NEIGHBORHOOD
About 27,000 people already call Aventura home, a number that does not take into account an estimated 10,000 part-time residents who live in the city from Thanksgiving to Passover. According to city officials, Aventura is about 97 percent built out. The bulk of this, says Esslinger Wooten Maxwell (EWM) president Ron Shuffield, is condominiums. He says single-family homes make up only 4 percent of the residential units currently for sale in Aventura. That means that most of Aventura's 27,000 residents live in high-rises, with more on the way. In total, there are currently 16 residential developments approved or under construction in the tiny 3.2-square-mile city, bringing approximately 3,500 new units online over the next few years. Williams Island, a high-end private enclave originally developed by William Trump, also continues to be a focus of condo development, although city officials say nearly all the land on Williams Island has been developed. The 30-story, 210-unit Belle Mare is coming in under the wire, as is Minto Communities' 24-story, 70-unit LaVogue condominium. "Aventura is maturing," says Michael Y. Cannon, managing director of Miami-based real estate analysts Integra Realty Resources. "It's really in its final stages of original development." The city would then turn its attention to redevelopment. "My understanding is that many developers are considering redevelopment of areas, so I think in the next five years, five to 10 years, you're going to see a tremendous amount of redevelopment by developers in key areas," says Aventura City Commissioner Bob Diamond. As Aventura grows-up its population is doing just the opposite. The resident population appears to be skewing younger each year and creating what many see a new demographic. From 1995 to 2000, the average age dropped from 62 to 51 and city officials expect another big drop in the census to come. Once considered a suburban location close to Miami and destination for second home buyers, the city is now transforming into what Cannon calls "a non-suburban urban municipality. Younger buyers] are seeking more of a cosmopolitan lifestyle," says Cannon. "They're looking to work and play in a centralized urban location." With traditional suburban land at a premium, he says, younger buyers are focusing on the benefits of condo living and a centralized location, and "adapting to a new lifestyle." But the beauty of shorter commutes and convenient shopping come at a high price. While the average sale price for new condos in Miami-Dade County rests somewhere around $360,000, Aventura's average is $420,000. And it does not look like it will be coming down. May 2004 saw Aventura's condo market selling at $218 per square foot, a year later the number has jumped to $291. The city has worked to lure young families by founding a charter school, The Aventura City of Excellence School (ACES). But while having an elementary school--and soon a middle school--within walking distance is a draw for some of the young families buying into the area, they may be disappointed to learn that living nearby does not insure their child a desk. The 700 seats, including the sixth grade set to open in the fall, are already full, and the waiting list is approaching 700. But according to principal and city education director Katherine Murphy, the student backup is a case of locals' own failure to believe. "There was no school here when I was hired ... and people had to believe in what I wanted to create," she says. "[People thought] 'maybe I'll wait a year or two and see if Dr. Murphy's vision for the school really is realized.' And they lost out." There are additional private and A-rated public schools nearby, Murphy notes, but they are overcrowded and are not located within the Aventura city limits.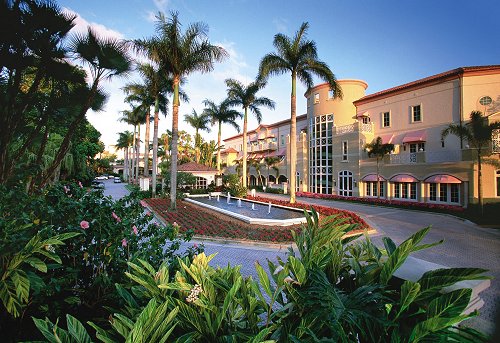 The influx of residents has led to concern about traffic and overbuilding within Aventura city limits. Addressing them is a little complicated, explains Diamond. "In 1999 the city adopted a zoning code that reduced density significantly, however, you still had about 90 percent of the city already built out when the city was formed, then about another 4 or 5 percent, the developers had vested rights that couldn't be interfered with," he says. Those vested rights were granted by Miami-Dade County before Aventura was granted a charter to incorporate in 1995.Credited to Jaclyn Alcantara & Andrea Carneiro
BACK TO TOP

Atlantic I At The Point Condos For Sale - Bella Mare Condos For Sale - Bellini Williams Island Condos For Sale
Hamptons South Condos For Sale - Hidden Bay Condos For Sale - Porto Vita Condos For Sale
Porto Vita South Tower Condos For Sale - Williams Island 2600 Condos For Sale - Williams Island 7000 Condos For Sale
Aventura Homes - Aventura Condos
1500 Ocean Drive Condos For Sale - Bentley Bay North Condos For Sale - Bentley Bay South Condos For Sale
Bentley Hilton Beach Condos For Sale - Capri South Beach Condos For Sale - Glass Condos For Sale
Icon South Beach Condos For Sale - Il Villaggio Condos For Sale - Mondrian South Beach Condos For Sale
Murano Grand Condos For Sale - Netherland Condos For Sale - Ocean House Condos For Sale - One Ocean Condos For Sale
Portofino Towers Condos For Sale - The Tides Condos For Sale - W Hotel Condos For Sale - Yacht Club At Portofino Condos For Sale
Miami Beach Condos
Akoya Condos For Sale - Azure Condos For Sale - Bath Club Condos For Sale - Blue Diamond Condos For Sale - Canyon Ranch Condos
Edition Residences Condos For Sale - Fontainebleau II Condos For Sale - Fontainebleau III Condos For Sale - Green Diamond Condos
La Tour Condos For Sale - Mosaic Condos For Sale - Solimar Condos For Sale - The Caribbean Condos For Sale - Villa Di Mare Condos
Miami Beach Homes - Miami Beach Condos