Coral Gables Real Estate - Community | Homes | Condos
Coral Gables Homes For Sale < click to see what's for sale in Coral Gables
Coral Gables has become one of the very most popular communities in the Miami area, and home to many of the rich and famous. Coral Gables real estate features some of its finest homes in Gables Estates, a community consisting of 192 lots. With easy access to Miami International Airport, the University of Miami, Biscayne Bay and the City of Miami, Coral Gables is one of South Florida's finest communities.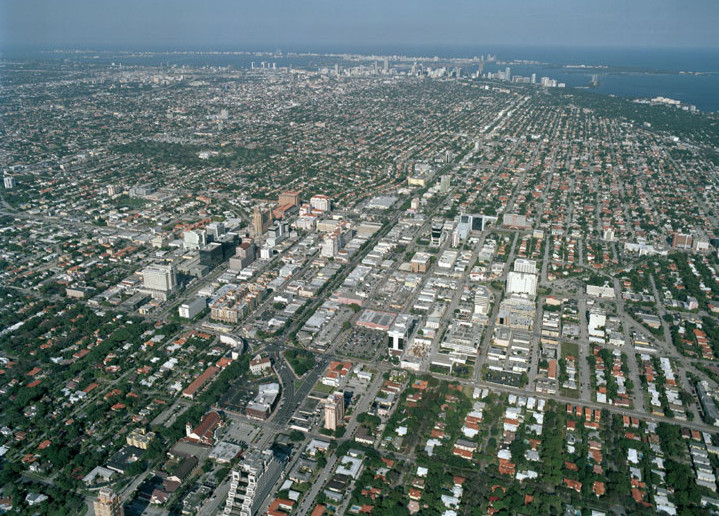 Coral Gables Florida - Rare Aerial View
Just south of Miami, Coral Gables, Florida, is a city of 41,000 residents who enjoy close proximity to one of America's busiest and most culturally diverse hubs. A strong dedication to architectural aesthetics and restoration has resulted in the preservation of one of South Florida's most beautiful cities. High residential real estate values attest to the city's draw not only for new Floridians, but also for residents of Miami, many of whom are overflowing into Coral Gables to escape the comparative hustle and bustle of that much larger metropolis.
Gables Estates Homes For Sale < click to see what's for sale in Gables Estates
Julio Iglesias Tahiti Beach Mansion Gets $11 Million Renovation
Deering Bay Condos For Sale - Deering Bay Milano Condos For Sale
Gables Club Tower I Condos For Sale - Gables Club Tower II Condos For Sale
Coral Gables Homes - Coral Gables Condos
Coral Gables Mansion Sold After 3 Years On Market
Last week a Coral Gables mansion sold for $12,600,000 to a trust managed by Sedano's Supermarket Vice President Armando Guerra. The property was marketed for sale for well over 3 years at an asking price of $18,000,000 before owners scientist/inventor Thomas Bales and his wife Constance Ryan sold it and closed the sale on March 18th. The mansion is located at 9151 Arvida Lane in the very exclusive Gables Estates neighborhood of Coral Gables. Bales and Ryan purchased the home in 1993 for $2,700,000. The 8 bedrooms, 10 bathrooms mansion boasts 15,080 square feet of living space, situated on a lot measuring 84,490 square feet (almost 2 acres), with a whopping 900 linear feet of waterfrontage surrounding this one-of-a-kind property.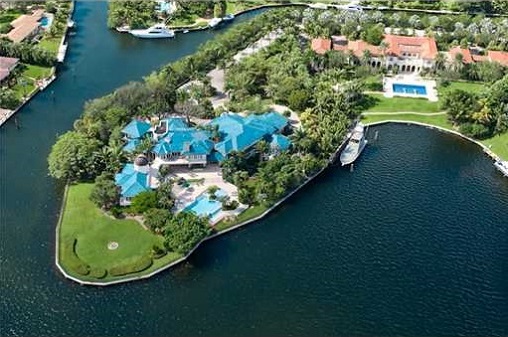 Coral Gables Mansion - 9151 Arvida Lane
Ray Allen Buys Tahiti Beach House In Coral Gables
Ray Allen of the Miami Heat NBA basketball team recently purchased the property located at 5 Tahiti Beach Island Road in Tahiti Beach, a very exclusive community with only 24 homes, at the very end of the Cocoplum subdivision of Coral Gables. He purchased the property from Billionaire entrepreneur Miguel (Mike) B. Fernandez for $11,000,000.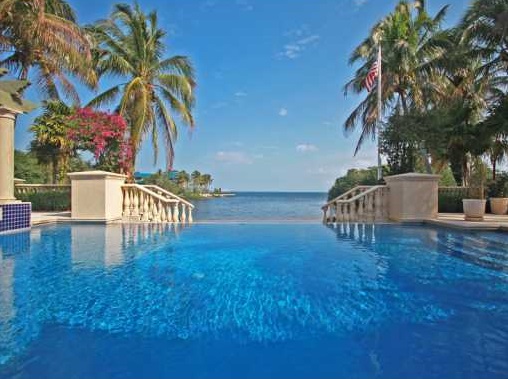 Ray Allen House
Jose Cuervo Tequila Exec Plans 7 Acres Coral Gables Old Spanish Village - March 2014
Alan Potamkin's House - Casuarina Concourse Estate $49 Million
11 Casuarina Concourse in Gables Estates, Coral Gables Florida - Alan Potamkin's House
Gables Estates Coral Gables, one of Miami's loveliest communities, is an area with ultra-luxurious homes nestled in a neighborhood of 192 properties, and is home to former Miami Heat coach Pat Riley. Entering the guard-gated, exclusive community of Gables Estates, via Casuarina Concourse, and driving all the way to the very end of the peninsula, passing some of the most beautiful homes in Florida, one finds him/herself in front of, perhaps the most grandiose property in all of Coral Gables, 11 Casuarina Concourse, home of Alan Potamkin. Situated on a 3.5-acre lot, the spacious 20,862 square feet house, with 8 bedrooms, 11 bathrooms, and 2 half-baths, faces the open waters of Biscayne Bay, with breath taking, testimonial views of Miami's unmatchable beauty. It is no wonder that Miami is so often referred to as the magic city.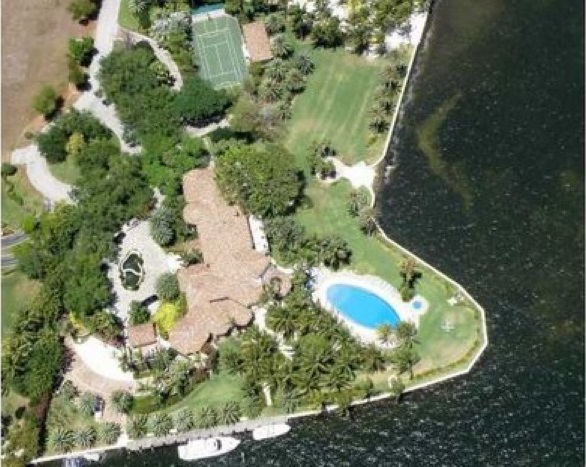 Alan Potampkin's house 11 Casuarina Concourse Coral Gables Florida
The estate was listed for sale with a price tag of $49,500,000, making it Coral Gables most expensive home. The property juts into Biscayne Bay and is surrounded by 880 linear feet of waterfront. Attached is a 150 feet long dock to accommodate a yacht of equal length. Replete with a lighted tennis court, adjacent to a private guest suite, which sits on it's own acre, the estate was built to satisfy those who can afford the very best in real estate. Some additional features of this marvelous Coral Gables mansion are an upstairs master suite with a full gym, billiard and media rooms, luitron lighting & a 12-camera security system. Any takers?
Related - Who Wants To Buy A Home at 11 Casaurina Concourse In Coral Gables for $49.5 Million?
BACK TO TOP


Video Of Beautiful Coral Gables
Coral Gables Vacant Lot Sold For $10.65 Million
A Coral Gables lot directly behind Alan Potamkin's house, sold and closed this week for $10,650,000. The lot measures more than 2.5 acres and is lined by the waterway leading directly into Biscayne Bay. Last month there were rumors that LeBron James, the newest addition to the NBA's Miami Heat, was trying to buy the Potamkin home, but when the Miami Herald finally spoke to Mr. Potamkin, he denied that there were any ongoing negotiations for the purchase of his mansion. The Potamkin property was listed for $49.5 million, and remained on the market for sale for more than a year, before the listing expired, with no buyers anywhere in sight. The hefty asking price chased away any would-be buyers. The vacant lot behind Potamkin's estate was listed for $15,700,000, and sold for a 32% discount. Although the location of the property can be said to be one of the best in Coral Gables, it pales compared to Potamkin's property, because it faces the canal and has no view to speak of. The seller lost money on the deal. The lot was purchased in 2003 for $10,500,000, and although it just sold for $150,000 more than that, carrying costs, and commissions forced the seller to take a loss. The property remained on the market for sale for 2 years and 3 months, before finally closing on August 16.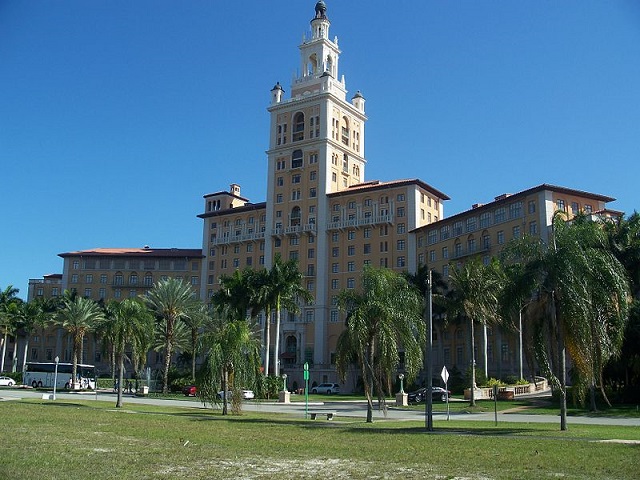 Coral Gables Historical Biltmore Hotel
LeBron James Tries To Buy Alan Potampkin's House in Coral Gables
LeBron James is trying to buy Alan Potampkin's house in Coral Gables at 11 Casuarina Concourse, according to reports heard all over Miami today. Priced at a cool $49.5 million, Mr Potampkin has been trying to sell the property since April 2009. The one-of-a-kind breathtaking 8 bedrooms, 11 bathrooms estate on the open bay waterfront is situated on the finest lot in exclusive, gated Gables Estates. This 20,088 square feet grandiose home boasts 800 linear feet of waterfrontage and sits on a 3.6 acres lot, with a 100 feet dock to accommodate up to a 150 feet yacht. There is a private guest suite with a lighted tennis court and courtyard on its own acre of land. Three suites with full baths, an upstairs master suite with a full gym, a billiard and media room are just a few of the featured highlights. Luitron lighting and a 12 camera security system are installed thrughout this estate. LeBron James, for those of you who haven't heard, is one of the NBA's finest basketball players. He announced 2 just hours ago that he is coming to Miami to play for the Miami Heat. The Miami Heat hope that LeBron will help to bring an NBA championship to the city.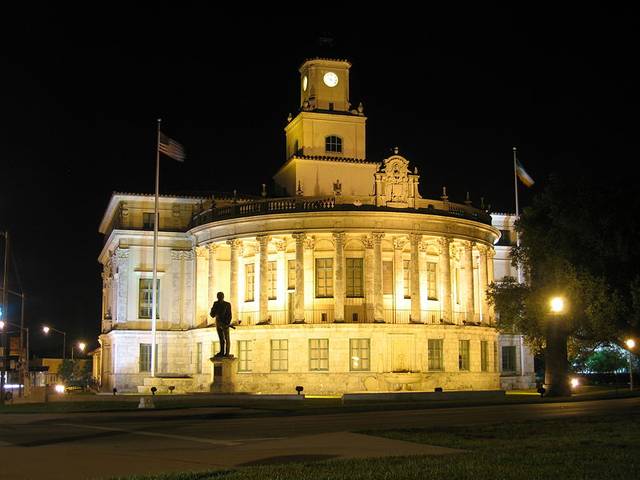 Coral Gables City Hall at Night
A-Rod Sells His Coral Gables Home for $8,500,000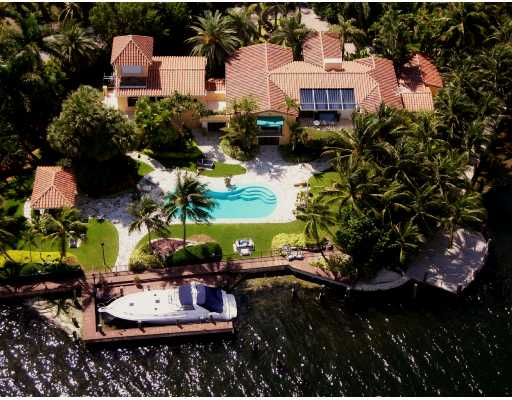 A-Rod's Coral Gables House
A-Rod, New York Yankees star, and the most famous player in baseball today, just sold his home in Coral Gables for $8.5 million, a whopping $3.5 million less than the $12 million he paid for it in 2004. Located at 181 E Sunrise Ave., the 6 bedrooms, 6 bathrooms, 8,300 square feet house, is situated on one of the finest lots, measuring well over an acre, in a guard-gated Coral Gables community. The private bayfront sanctuary features breath taking oceanfront views, and the property offers the finest in waterfront yachting, entertaining and living. When the New York Yankees star separated from his wife some time ago, A-Rod, whose real name is Alex Rodriquez, moved out of the house, and rented a home on Star Island for several months, as his Coral Gables home remained on the market without a buyer. This week he finally sold the home, 14 months after the property was first listed for sale. Few people could afford to take such a huge loss on a home sale, but when you are one of the highest paid atheletes in the world, perhaps the loss doesn't seem quite as dramatic.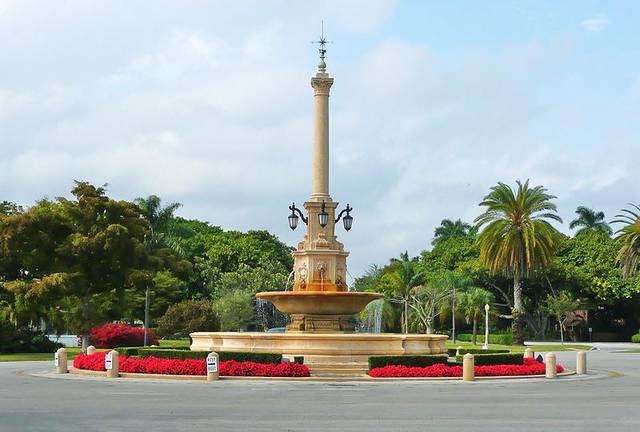 Coral Gables Desoto Fountain
A-Rod's House In Coral Gables $11,000,000
A-Rod's house (Alex Rodriquez) Coral Gables 181 E Sunrise Avenue April 2009
A-Rod's house in Coral Gables remains on the market for sale, after 8 months. New York Yankees star, Alex Rodriguez listed the home for sale in mid-December 2008 for $12,300,000, but quickly lowered the price to $11,000,000 after only 2 months. He purchased the property, located at 181 E Sunrise Ave, Coral Gables, FL., in 2004 for $12,000,000, and according to Dade County public records, there is a $5,500,000 mortgage attached to the home. The mansion is one of Coral Gables' finest, with 8,310 square feet of living area, situated on a 46,243 square feet lot, with breath taking ocean front views. The 6 bedrooms, 5 + 3 bathrooms home has been completely renovated, and is also for rent for a cool $35,000 per month.
The City Of Coral Gables - Circa 1929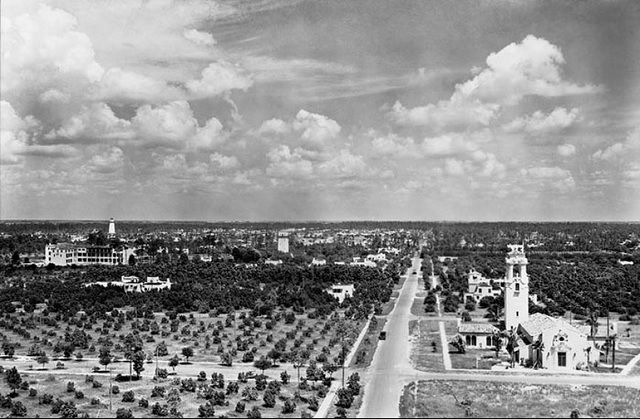 Coral Gables in 1929
BACK TO TOP

Coral Gables Rapid Transit Corporation - Circa 1925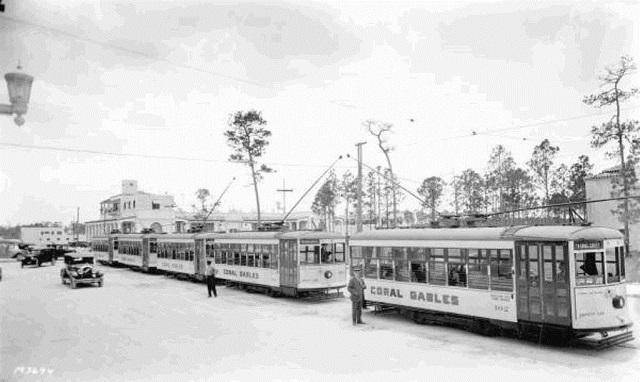 Very Rare Photo Of The Coral Gables Rapid Transit Corporation in 1925

The Coral Gables Rapid Transit Corporation was created by developer George Merrick in 1925 to connect his Coral Gables development with the City of Miami. On November 4, 1935, a hurricane destroyed most of the system's overhead and left several trolleys stranded out on the line permanently ending the system's operations in the middle of the Great Depression.
Coral Gables Real Estate Market Value
Given Coral Gables' strong economy, the residential real estate market is thriving despite the market's asking prices, which are expensive. The average price for a single-family home (containing 3 or 4 bedrooms) ranges from $200,000 to $750,000. Smaller-sized homes aren't likely to give your budget much of a break; the average two-bedroom townhome in Coral Gables ranges from $175,000 to $300,000; and the average two-bedroom condominium will run you anywhere from $150,000 to $295,000.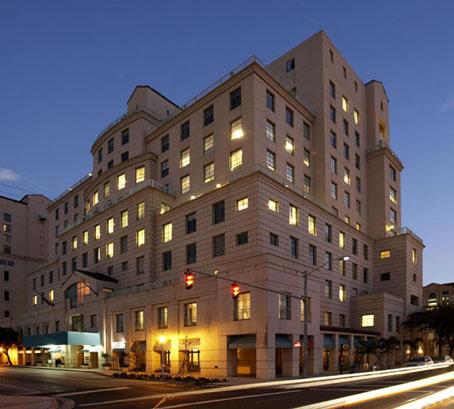 Coral Gables Real Estate - Colonnade Hotel
Coral Gables Community
In addition to a strong local economy and progressive, diverse and educated populace, Coral Gables offers its residents an environment in which city developers and leaders take great care to promote the ongoing maintenance of the city's historic structures and its surrounding landscape. As long as all of these elements are in place, it's likely that property values will remain high in Coral Gables. This architectural gem of South Florida is likely to remain one of the state's strongest real estate markets well into the 21st century.
by Courtney RonanCourtney Ronan is a freelance writer who writes a weekly review of real estate related web sites.
BACK TO TOP


Miami Condos
900 Biscayne Condos For Sale - Asia Condos For Sale - Bristol Tower Condos For Sale - Carbonell Condos For Sale
Epic Condos For Sale - Four Seasons Condos For Sale - Grovenor House Condos For Sale - Icon Brickell Condos For Sale
Jade Brickell Condos For Sale - Marina Blue Condos For Sale - One Thousand Museum Condos For Sale
One Thousand Venetian Condos For Sale - Paramount Bay Condos For Sale - Ritz Carlton Condos For Sale
Santa Maria Condos For Sale - Ten Museum Park Condos For Sale - Three Tequesta Point Condos For Sale
Two Tequesta Point Condos For Sale - Viscayne Condos For Sale - Miami Homes - Miami Condos