Bal Harbour Real Estate
Bal Harbour Homes For Sale < click to see what's for sale in Bal Harbour
There are only 179 houses, including 32 waterfront homes in the highly secure gated village of Bal Harbour.
Outside of the gated area and across from the Bal Harbour Shops is the St. Regis. It finally opened this year after delays not unlike those all over Miami as the real estate market cooled off. (The Post first visited the St. Regis sales center in 2006.) But now it's a tremendous success story. About 75 percent of the 245 units have found buyers at prices averaging around $1,350 per square foot, says John Manrique, vice president of sales and marketing for the St. Regis' residences. And it's this international jet set that's also largely powering the sales numbers at the Bal Harbour Shops, which hit a sky-high $2,465 per square foot in March despite the departure of prominent stores including Louis Vuitton, Cartier and Dior. (Bal Harbour Shops newcomers including Balenciaga and Stella McCartney have performed well.) "Our customer base for many, many years has been at least half tourists," says Bal Harbour Shops managing partner Randall Whitman. "At the moment, I notice a lot of Russians and Brazilians. Tomorrow, it could be Germans or British." "Even though some [stores] have left, and those people are substantial, Bal Harbour is a necessary and relevant address for a lot of retailers," says Miami retail broker Greg Masin, senior director at Cushman & Wakefield. "It isn't going to lose its relevance because it lost Louis Vuitton. (copyright N.Y. Post)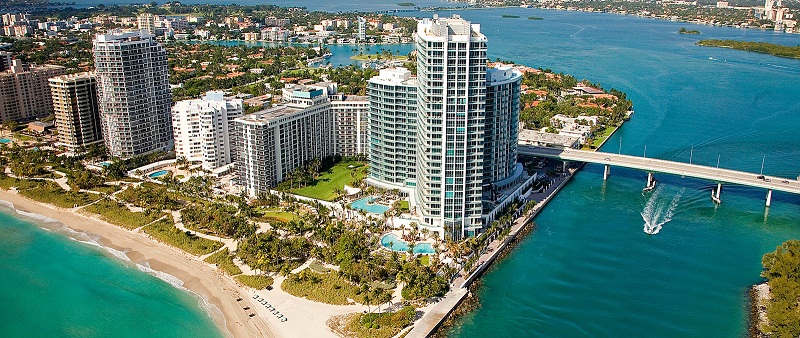 Bal Harbour Florida
St. Regis Bal Harbour Condos For Sale - Ritz-Carlton Bal Harbour Condos For Sale - Bal Harbour Tower Condos For Sale - Bellini Condos For Sale
Harbour House Condos For Sale - Majestic Tower Condos For Sale - The Palace At Bal Harbour Condos For Sale
Bal Harbour Homes - Bal Harbour Condos

Mega-Yacht Crashes Into Bridge In Bay Harbor
The two most upscale buildings in Bal Harbour were recently built. They are the One Bal Harbour, now known as the Ritz-Carlton Bal Harbour, and the St. Regis. The Ritz-Carlton Bal Harbour is advertised as a "beachfront oasis set along 750-feet of white sand beaches, where the bold blue ocean meets the calm Intracoastal waterway, providing supreme indulgence for any stay. The 18-story modern glass tower defines sophistication, with 180° panoramic views of the Atlantic Ocean and Miami's Biscayne Bay. Ritz-Carlton Bal Harbour offers the pinnacle of luxury for the most sophisticated travelers. As one of Miami Beach's most exclusive resorts, Ritz-Carlton Bal Harbour is known for its elegantly modern design, deluxe accommodations and refined interiors, highly personalized service and unparalleled world-class amenities, all which create a perfect harmony of comfort and charm.
Escape to this luxury resort, located only 15 minutes from the renowned South Beach on the northeastern end of Bal Harbour Village.With easy access to the famed designer boutiques of the Bal Harbour Shops, world-class dining, exclusive art galleries, nightlife and more, there's nothing you can't have when you stay at ONE." The St Regis Bal Harbour advertises it's hotel and residences as "Always St. Regis. Now Bal Harbour. The St. Regis Bal Harbour Resort, Miami Beach, recognized by Forbes as "the most anticipated hotel opening of 2012" and recipient of the most coveted AAA Five-Diamond award for 2012, is a peerless haven of oceanfront elegance, quiet unwavering taste, anticipatory service and seductive amenities. This exclusive Miami Beach enclave is directly across from the celebrated Bal Harbour Shops and mere minutes from the whirlwind energy of South Beach, Miami, and the area's premier events such as the world-renowned Art Basel. Wake in the morning as the gentle breeze of the Atlantic invites you to start your day. Indulge at Remède or simply stroll along the beach as the ocean caresses the sand. Indulge in gastro-pleasing delights by Jean-Georges at J&G Grill. In the evening, enjoy cocktails poolside or an in-room dinner party, seamlessly executed by your St. Regis Butler. You may also consider ownership at the St. Regis Bal Harbour Residences. Experience a lifestyle like no other on Florida's Gold Coast. The St. Regis Bal Harbour Resort, Miami Beach features a total of 243 elegantly appointed guest accommodations which all include spacious glass-enclosed balconies with floor-to-ceiling panoramic views of the ocean and white sand beach. They encompass king and double queen rooms, king studios, one and two bedroom suites, and a two bedroom Presidential Suite. Studios and suites boast kitchenettes and all suites include dining and living areas as well as a full separate bathroom."
St. Regis Bal Harbour Penthouse Sold for $22.75 Million May 2014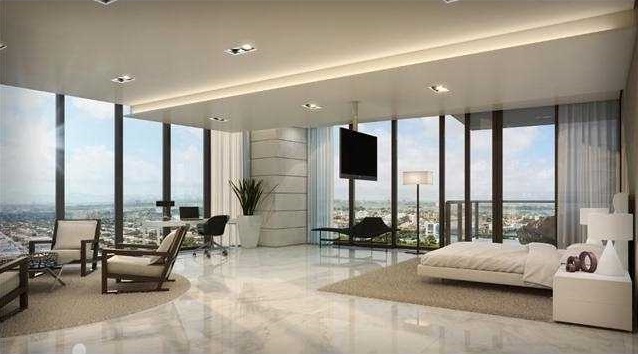 St Regis Bal Harbour Penthouse Master Bedroom

A stunning 14,129 square feet South Tower Penthouse in the St. Regis Bal Harbour just sold for a whopping $22.75 million. Unit #2501 at 9701 Collins Ave occupies the entire 25th floor of the St. Regis Bal Harbour, and includes 5 units, boasting amazing views of the Atlantic Ocean, the intercoastal, and the city. St Regis Hotel amenities are available to all residents, and include a private swimming pool, an exclusive concierge service, housekeeping, dry cleaning, laundry, a gym and much more. The Bal Harbour penthouse was previously owned by Yuriy Kosyuk, a Ukrainian billionaire in the in poultry and food products business. The buyer was 9701 Collins LLC, a Delaware limited liability company.

Bal Harbour Tour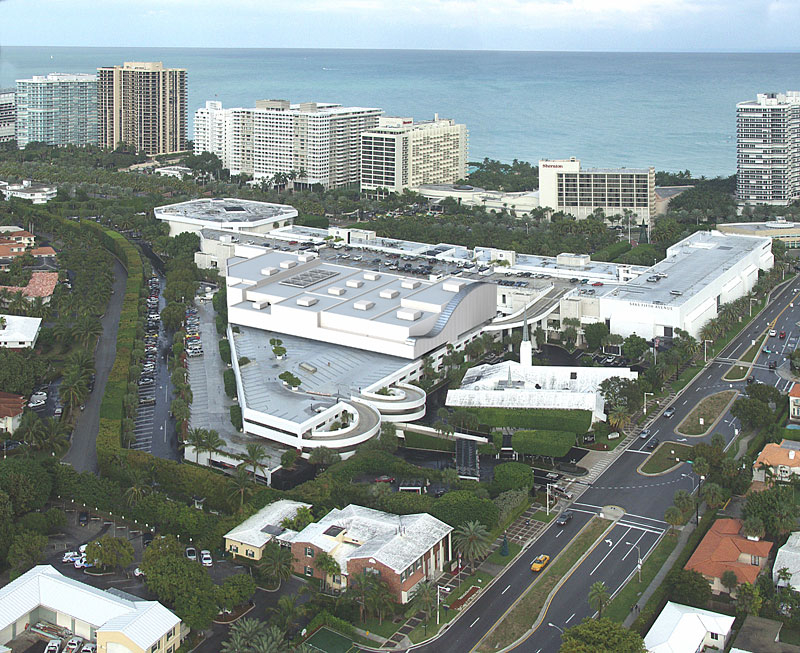 Shops at Bal Harbour
When Stanley Whitman bought the land where the Bal Harbour Shops now hold court, Bal Harbour real estate was the home of a US Army barracks that had been converted into condos. After that 1957 purchase, it took Whitman eight years to sign on enough retailers to open the mall. "It was a completely maverick idea at the time," says Bal Harbour marketing director Cheryl Stephenson. "It really helped transform what was a seaside resort community into a fashionable destination that is now compared to Madison Avenue and Rodeo Drive." Today, instead of the 11 oceanfront hotels that once lined A1A, there are only two, the Sheraton Bal Harbour and the Seaview. In their place is some of the most expensive real estate in South Florida--along with the Shops, which 38 years later retains its position as the most successful mall in the US. "Nobody seemed to recognize what could be done here," says Whitman. "It's unbelievable when you look back on it.
The original name for the city--Bay Harbor--was snatched, says Whitman, by his then-neighbor Shepard Broad, the father of the adjacent eponymous township and the man behind the Broad Causeway that links Bal Harbour and Bay Harbor Islands to the mainland. Broad, the founder of local law firm Broad & Cassell, passed away at his home in Bay Harbor Islands in 2001 at the age of 95. But his legacy lives on in the comfortable residential enclave he helped create with Benjamin Kane, for whom the town's main commercial thoroughfare--Kane Concourse--is named. Now, after years of spectacular increases in property values in Bal Harbour and Bay Harbor Islands, developers are once again building in both communities. In Bay Harbor, for example, the 15-story Carroll Walk condominium (with prices from $400,000 to more than $1.3 million) has just been completed. Developer--and township councilman--George Reycraft says his 39-unit building is mostly populated with the ubiquitous empty nesters and snowbirds who come to South Florida for part of each year. Overall, Reycraft says Bay Harbor's appeal comes from the fact that it really is a small town. Made up of two islands, the eastern atoll is clustered with low-rise, older apartment buildings from the 1950s, while the western isle is populated with upscale single-family homes. "It's really a family-type neighborhood," says Reycraft, who has lived and worked in Bay Harbor for 22 years (he was elected councilman in 2001.) "A lot of people who retired here had children who grew up here. That's not uncommon." Reycraft says that while Bay Harbor has its fair share of retirees, the average resident's age in the town has dropped by about 20 years in the last two census counts. "One of the principal assets here is that we have a great school, so we do attract a lot of families," he says.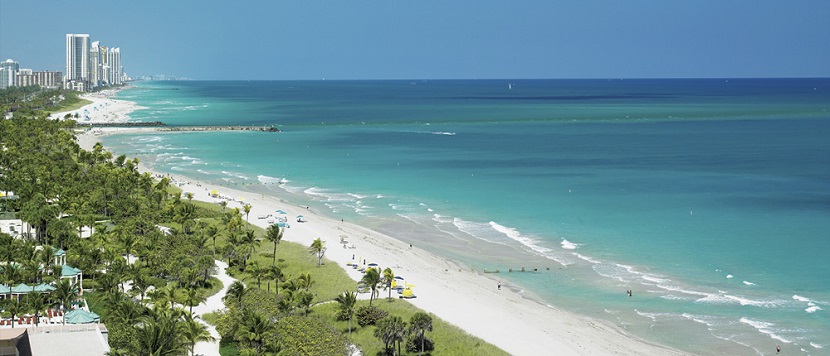 Bal Harbour View Of Beach
On the tip of the eastern island, Developer Elliott Sharaby (CEO of the Baltimore-based Falstaff Group) is working on a condominium conversion called Island Pointe. "We've got 260 degrees of unobstructed open waterway," notes Sharaby, who says that the 165-unit, 11-story project is more than 40 percent sold. There are several other developers eager to build in Bay Harbor Islands, but they're facing a host of issues that are hindering them. First, there's a 75-foot height restriction on new residential buildings, which allows only seven stories. The height limit was voted in at the last election; a subsequent amendment made it part of the town charter (Reycraft's project was approved and permitted before the election.) Perhaps more restrictive is a moratorium on new development until Bay Harbor submits an amended Comprehensive Plan to the state for review. At issue is density; as it stands now, developers can only build 34 units per acre, and the council is debating on whether to change it. The problem is that five developers with higher density projects had been approved before the issue came up, but are not yet permitted. "The density issue was discovered after [the developers] got their approvals by the town council," Reycraft says. "At this point it will be decided in the courts." "Basically, nothing can be done before the plan comes back from the state," says Bay Harbor Islands Mayor Linda Zilber, who's lived in the town for 48 years. "Yes, they're very old rules for zoning. But really, everybody in Bay Harbour wants to keep the flavor of a small town." Small town indeed: on Kane Concourse, Bay Harbor's main commercial avenue, boutiques and tiny restaurants--including the well-known Da Vinci Cafe--dot the street, while the larger-than-life Palm Restaurant is tucked into a cozy space adjacent to Carroll Walk. Bay Harbor Fine Foods, open since the 1950s, is hidden among low-rise apartment buildings on the south side of the concourse. "We've also got several art galleries, recreation like tennis and golf is nearby, and if you consider eating to be entertainment, we've got a lot of that," says Reycraft. A veritable South Florida institution--Martin King Jewelers, which has been in business in Miami since 1912--is also located on the Kane Concourse. "We've been in Bay Harbor Islands for 23 years," says Maxine King, whose husband Scott's great grandfather started the business on Lincoln Road. "The location for us is a good happy medium." For other entertainment and shopping, of course, there's Bal Harbour directly to the east, and Surfside directly south of Bal Harbour.

Bal Harbour Mansion For Sale For $19,900,000 Located At 88 Bal Bay Drive
In the past... Bal Harbour, meanwhile, is going through some changes itself in terms of new residential development. Bonita Springs-based WCI Communities has proposed One Bal Harbour, a 28-story, 185-unit condo complex at the mouth of Haulover Cut on the north end of Bal Harbour. Part of the project, says Paul Drummond, president of WCI's East Coast Towers Division, will be a 17-story condo-hotel component kept separate from the residences. "There's going to be a common lobby area, and we're offering 124 completely furnished keyed suites," says Drummond. WCI is currently in talks with ultra-luxury hotels to manage that portion of the development, and hopes to begin construction by the second quarter of 2004--once he has final approval by Bal Harbour. For WCI, the location was a no-brainer. "It's the best location in Bal Harbour," says Drummond. "To the north, you've got Haulover [inlet] and the park, to the south, magnificent views of Indian Creek and Miami Beach. [And] Bal Harbour itself is at the beginning stages of a renaissance." In a remarkable sign of demand, Drummond says that reservations were taken on virtually all but 10 of the units with prices from $1 million to $10 million --within two days, and in a relatively soft ultra-luxury market. Carolyn Marcus, the director of sales at Le Nautique, is also experiencing success in the Bal Harbour market. Located on the Intracoastal directly across from Haulover, the 14-story building--being developed by architect Markus Frankel and developer Howard Shapiro--is made up of only 12 residences. Marcus says the building was designed with two units per floor, but that most were sold combined as full floors, with 4,100 square feet of space each. Well under construction, La Nautique will be finished in June and available for occupancy in August. All that's left: two entire floors which are being sold as such for more than $1 million each. "It's upscale but low-key," says Marcus. "Our buyers enjoy their privacy and don't want to be around a lot of people. It's having the privacy of a home within a condominium." She notes that the 10-minute walk to the Bal Harbour Shops--and beyond to Surfside and Bay Harbor--was also an incentive for buyers. "It's nice," she says, "that you can actually walk somewhere. It's a hometown island."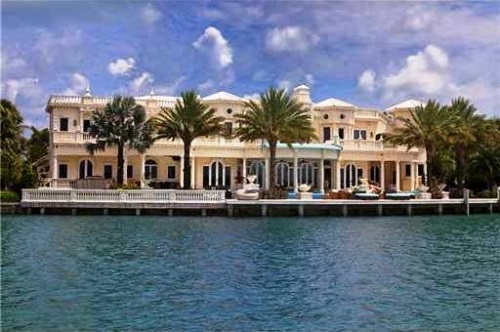 Beautiful Bal Harbour Waterfront Mansion As Seen From Biscayne Bay
Calling it a hometown island, of course, is like calling the Hamptons a hometown beach. The upscale Bal Harbour Shops are at the top of the fashion world, with stores that include Luis Vuitton, Chanel, Ferragamo, Armani, Christian Dior, etc. Not bad for a former army barracks. The Master Broker Perspective Master Brokers Forum vice chairman and founding member Donna Bloom shares her thoughts on real estate development in Bay Harbor Islands and Bal Harbour. What's exciting to you about Bay Harbour Islands and Bal Harbour? It's not just becoming exciting now. It has always been a drawing card here. People do want to be close to the Bat Harbour Shops and the level of exclusivity that brings. Some people who want to live on the beach prefer to be the in mid-Beach: they prefer to be farther north. What about the condo conversion going on in Bay Harbour Islands (Island Pointe)? Sometimes those kinds of projects can be very popular. Usually the prices are a lot lower, because you're talking about a different kind of product. A conversion would draw younger people because of the prices, but you are still going to see a kind of mix between young people and the empty-nesters. For the price, it's a very good bet. Speaking of buyers, who is interested in those two neighborhoods? I think developers are seeing more locals, with a few out-of-towners. There are the international buyers too, but these days, I would think they're more likely to be Europeans than South Americans. How is the character of the neighborhoods changing with the new development? Is it changing? I trunk it's going to stay as it is, and perhaps get even more elegant. People are, of course, attracted to that area because of the lifestyle, and they are familiar with what the area has to offer. Do you think there is a housing bubble Down here? Prices seem to be rising, And there is still demand. We are not in a housing bubble yet. I just don't feel it. I would say in this area, we haven't felt anything yet that makes it feel as if we're going to burst, I think we get affected by those kinds of trends later on than other areas. Some people say it's slow right now, but we're in the middle of the summer. And this year, we haven't completely slowed down.
BACK TO TOP
South Beach Condos
1500 Ocean Drive Condos For Sale - Bentley Bay North Condos For Sale - Bentley Bay South Condos For Sale
Bentley Hilton Beach Condos For Sale - Capri South Beach Condos For Sale - Glass Condos For Sale
Icon South Beach Condos For Sale - Il Villaggio Condos For Sale - Mondrian South Beach Condos For Sale
Murano Grand Condos For Sale - Netherland Condos For Sale - Ocean House Condos For Sale - One Ocean Condos For Sale
Portofino Towers Condos For Sale - The Tides Condos For Sale - W Hotel Condos For Sale - Yacht Club At Portofino Condos For Sale
Miami Beach Condos
Akoya Condos For Sale - Azure Condos For Sale - Bath Club Condos For Sale - Blue Diamond Condos For Sale - Canyon Ranch Condos
Edition Residences Condos For Sale - Fontainebleau II Condos For Sale - Fontainebleau III Condos For Sale - Green Diamond Condos
La Tour Condos For Sale - Mosaic Condos For Sale - Solimar Condos For Sale - The Caribbean Condos For Sale - Villa Di Mare Condos
Miami Beach Homes - Miami Beach Condos