Asheville North Carolina Real Estate Relocation Information
Asheville North Carolina real estate agents we recommend, are committed to serving your real estate needs. They can help you relocate to Asheville North Carolina, and to find the home that suits you. Whether you are looking for a house or a condo, our recommended agents are there to assist you in the purchase of a condo or home for sale. Highly skilled real estate agents can help to negotiate the best price for you, whether you are buying or selling a home. Research all Asheville North Carolina real estate listings in the MLS (multiple listing service).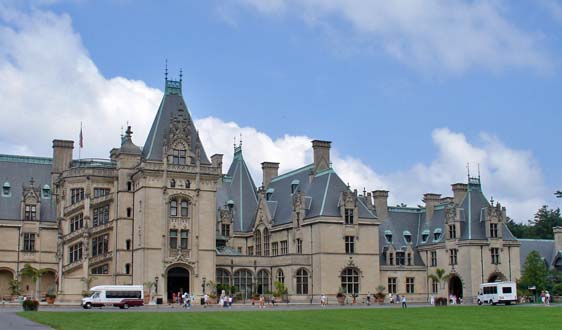 Ashville North Carolina - Biltmore Estate
Higher Education:
Asheville-Buncombe Technical Community College (Asheville, NC)
Brevard College (Brevard, NC)
Mars Hill College (Mars Hill, NC)
Montreat College (Montreat, NC)
South College (Asheville, NC)
University of North Carolina at Asheville (Asheville, NC)
Warren Wilson College (Swannanoa, NC)
Western Carolina University (Cullowhee, NC)
Asheville is located in the heart of the Blue Ridge and Great Smoky Mountains. A wonderful city to visit, and live in, Asheville offers a lot to enjoy, including skiing, snowboarding, fishing and horseback riding.
Asheville NC was selected by AARP magazine as a top 15 dream town, and "one of the best places to reinvent your life." Asheville is it the largest city in Western North Carolina.
The Biltmore House on Biltmore Estate, is the largest house in the United States, boasting more than 250 rooms, and originally built as a private home, complete with an indoor pool and a bowling alley.
Call us for information to find a real estate agent who can handle your relocation requirements.

Favorite Cities in America:
Miami | Miami Beach | Key Biscayne | Fort Lauderdale | Boca Raton | Palm Beach | Vero Beach
Orlando | Naples | Asheville | Charlotte | Raleigh | Malibu | Santa Monica | San Francisco | San Diego | Fresno | Las Vegas | Reno | Lake Tahoe | Henderson | Kauai | Oahu | Maui | Houston
Austin | Dallas | San Antonio | New York | Chicago | Washington DC | Atlanta | Scottsdale
Phoenix | Boston | Sarasota | Aspen | Stamford | San Jose